Jesse in Toronto Neighbourhoods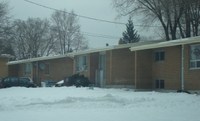 The neighbourhood of Lawrence Heights, like a lot of older communities, has two sides (check out Realosophy's neighbourhood profile for local housing and school stats). Much like Elia, crime and violence have put this neighbourhood on the map as positive events are over looked. Located on the property of Mulholland Farm (circ. 1814), developers purchased the area in between Dufferin Street and Bathurst Street, just north of Lawrence Avenue West, from the Mulholland family in the 1940s. The transformation of farmland into Lawrence Heights, one of Toronto's largest designated public housing areas, was planned and executed by The Canadian Mortgage and Housing Corporation in the 1950s.
Known as 'The Jungle' due to the self-contained streets that lie within Lawrence Heights, visitors commonly get lost amid the winding streets. Connected by Flemington Road, the courts and lanes are not linked together which makes Flemington a very busy street as it provides the sole means of vehicular access to the residential areas. Cross walks are common along this street to allow safe access to Flemington Elementary School, Lawrence Park Community Health and Community Centers and pedestrian walkways into residential housing and surrounding parks. Leaving from nearby Lawrence West Subway Station, the Lawrence Manor 400 bus facilitates travel throughout Lawrence Heights and adjacent neighbourhood Lawrence Manor.
During initial construction, high-rise buildings were prohibited due to this planned neighbourhood's proximity to Downsview Airport. It was for this reason that low-rise buildings and row-house style homes dominate this little slice of Toronto. Lawrence Heights was built as, and continues to be, a designated low-income, community housing neighbourhood.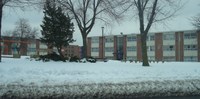 Residential styles differ according to which area of Lawrence Heights you are in; large, orange signs help guide you through the streets. Along the western branch of Flemington Road (Pengarth Court, Edengarth Court and Amaranth Court) siding and brick, two-storey row houses are found. Crossing the W.R Allen Road Bridge, low-rise apartment-style buildings line the street across from Flemington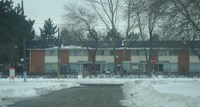 Elementary School – these buildings appear to be schools as well and it took a double-take to realize that they were in fact residential units. Along the eastern portion of Flemington Road, continuing onto Varna Drive, sit fully-detached, two-storey all-brick homes. No one style is exclusive to any one part of Lawrence Heights; however, the above-mentioned styles are dominant within certain areas in the neighbourhood.
Community events are common within this little neighbourhood. Green 'community events' boards set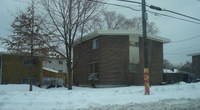 next to wooden utility poles painted with street names in psychedelic colours and patterns enforce this sense of community pride. As The Toronto Star reported, annual festivals, youth programs and tournaments as well as co-op gardens and clean-up days unify the community and provide a sense of pride among residents. The Star, as well as the CBC, has recently reflected on City Councillor Howard Moscoe's plan to 'revitalize' Lawrence Heights. Having had a first-hand look at the community, I too wonder whether funding should be spent on renovating existing homes rather than 'revitalizing' the area and potentially displacing the hundreds of families who call Lawrence Heights home?
Jesse Fleming is a freelance writer based in Toronto. Email Jesse
Subscribe to the Move Smartly blog by email
Photo Credits: Jesse Fleming
Share on Facebook • Email this • Save to del.icio.us • Stumble It!
Share This Article