Jesse in Toronto Neighbourhoods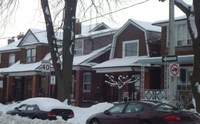 Similar to Allenby, the neighbourhood of Corso Italia is one of Toronto's smallest (check out Realosphy's Neighbourhood Profile for housing and school stats). The seemingly aged collection of buildings and retail shops span only a few blocks east from Lansdowne Avenue/Prospect Cemetery to Westmount Avenue and approximately a block north and south from St. Clair Avenue West.
Semi-detached and fu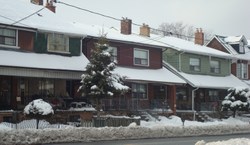 lly-detached two-storey homes line the one-way streets that lead to and from busy St. Clair Avenue West. Set close together with smaller front yards these houses are reminiscent of those found in older areas of the city such as Allenby and North Toronto. Along St. Clair, many retail spaces have apartments above - a fact that allows Corso Italia to have a larger neighbourhood population than meets the eye.
Corso Italia is dissected by the St. Clair streetcar line that runs east and west along the street. Current construction on these tracks has led to traffic congestion as cars along with St. Clair Avenue West 512 buses weave amongst construction signs and street-parked cars. The Dufferin Street 329 route also slices through the eastern portion of the neighbourhood.
Home to the Corso Italia Fiesta, public transportation is an asset during this summer festival. Food vendors and various mediums of entertainment take over the streets for the length of the festival which has incorporated a multicultural flavour reflecting Toronto's diversity. Italian, Portuguese and Spanish make up a large portion of the population throughout the neighbourhood; residents of Vietnamese and Chinese ethnicity can also be found here.
Not to be confused with the Little Italy to the south, Corso Italia holds on to its Italian heritage through neighbourhood establishments such as The Big Ragu, Tre Mari Bakery and gelaterias; grocers, florists, European fashion and textile shops round out the retail sector of the area. Although its blink-and-you'll-miss-it size leads some to overlook it, Corso Italia is a neighbourhood worth slowing for.
Jesse Fleming is a freelance writer based in Toronto. Email Jesse
Share This Article