In a previous post, I had written about Toronto's roll-out and implementation of its new waste reduction initiative. Various sized blue bins and new solid waste grey bins join the organic waste green bin in what is proposed to be Toronto's colour coordinated, organized attack on garbage. The beginning of February brought the delivery of new blue bins to Toronto residents. It also brought frustration to home owners and renters as the city's ideological vision towards waste reduction hit a few roadblocks.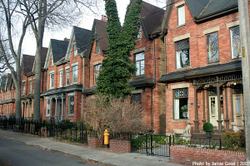 The problem? As reported by the Globe and Mail, residents of Ward 28, specifically Cabbagetown, have found the new recycling bins, implemented by the city earlier this year, difficult to maneuver to the curb for pick-up and a hassel to store.
The solution? Ward 28 communities will be piloting an alternate program where they will use a solitary receptacle, alternating it between recycling and solid waste. Although reducing the number of bins partially takes care of the storage problem, a hurdle of getting the bin to curb remains as the 19th century homes in this neighbourhood have limited front-yard to back-yard access. Ward 28 encompasses the neighbourhoods of Cabbagetown, St. Lawrence, Cork Town, Distillery District, Moss Park, St. James Town, Regent Park and Toronto Island.
Elsewhere in the city, residents of Ward 30 felt similar aggravation towards the over-sized blue bins. In response to their grievances, Torontonians living there will be allowed to obtain multiple smaller blue bins. Ward 30 includes the neighbourhoods of Riverdale, Blake-Jones and Leslieville.
The problems encountered by these two areas of Toronto are likely to unfold in other regions across the city, especially when the collection of bins has been completed. Currently, a 3Rs Working Group is being established to brainstorm methods of reducing Toronto's garbage and to increase public education and awareness on this front. This could be a successful means of implementing alternate waste diversion programs for those areas that are not able to abide by the current initiative. Toronto is not a cookie-cutter city; there should be no surprise that the homogeneous approach to waste collection was met with disdain.
Jesse Fleming is a freelance writer based in Toronto. Email Jesse
Subscribe to the Move Smartly blog by email
photo credits: www.subjectmag.ca/.../history-Cabbagetown.html
Share This Article