Urmi in Urban Issues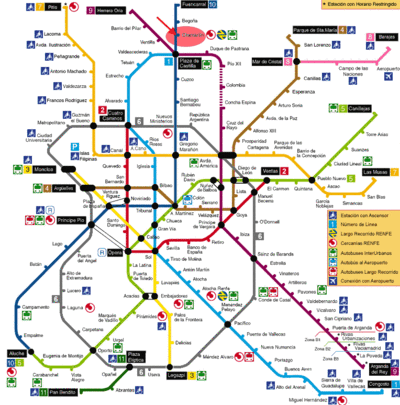 Last month, Michael Fenn, CEO of the Metrolinx - the agency charged with overhauling the patchwork of GTA transit systems - had some interesting things to report following a trip to Europe. Of particular interest was a comparison of Toronto's Sheppard extension with Madrid's recently completed subway extension (see map above). I've pulled together some of the Star's reported highlights along with a few general facts:
Subway/Metro System Facts
Toronto

Madrid

City Area in km2 (Greater Metro Area)

630 (6,200)

607 (8,000)

Population in millions (Greater Metro Area)

2.5 (5.1)

3.2 (6.1)

First subway line opened

1954

1919

Total subway km

68

282

Annual subway passengers in billions (year)

445 (2006)

647 (2005)

Recent subway line extension

Sheppard

Various

New subway km

5.5

150

Cost per new km in millions

200

90

New line started-completed

1994-2002

1995-2007
Most notable is the cost per km difference: it took approximately $200 million per km to build a new line in Toronto vs. $90 million per km in Madrid.
Fenn and Metrolinx were quick to point out that this comparison is a necessarily compromised one, having taken place in the real world and not a lab. Geographical differences, such as the relative pliability of Madrid's soil, have an impact on construction costs and should be taken into consideration. Other differences cited are less compelling.
Dismissing the report because Spanish governments had a "long-term vision" - while we presumably didn't - implies that politics and policy are as unchangeable as one's latitude. Policy and politics are man-made and making good on them is a job description. It is a description Manuel Melis, president of Madrid Metro (Metro de Madrid), appears to have understood when he explained his vision to Steve Bennett of International Railway Journal: ""I believe that rail transport projects are simple engineering projects, easy to design and build, and, with the appropriate staff and management techniques, they can easily be completed on time and within budget. I refer particularly to those Madrid Metro projects where completion dates have not only been met, but have been beaten by several years in comparison with similar projects elsewhere." Having had the pleasure of riding Madrid's inviting yet efficient subway, I believe that quality also figured largely in Melis' vision.
During its visit, Metrolinx also looked at the UK's plans to expand London's iconic 'tube' through a public-private partnership. Unfortunately, this analytical rigour does not permeate Toronto's transit debate. Adam Giambrone, Chair of the TTC, may be correct in suggesting that the TTC operates within a particular environment, for particular reasons. But these reasons must bear scrutiny. Take, for example, Giambrone's position on whether the private sector has a role to play when it comes to public transport, as reported in the Star: "A partnership with the private sector could compromise quality and, in the long run, cost more, [Giambrone] warned. 'Retrofitting subways is very expensive.'"
Retrofitting anything - whether privately or publicaly built - is costly. While it would be foolish not to recognize that the private sector is no panacea for lack of focus and questionable leadership, it would be equally foolish to assume the reverse automatically holds true for the public sector.
Toronto, like the rest of North America, experienced a landmark building boom in the post-WWII era, when the construction of Canada's first subway began. The generation that followed enjoyed the fruits of these endeavours, but more often than not, chose to defer maintenance, conservation and sustainability to focus on convenience, new consumption and immediate gratification. It's all come to a rather emphatic 'The End' - falling bridges in Minnesota and Montreal, exploding steam pipes in New York City and pothole-strewn obstacle courses across the GTA mean that leaders will have to spend more on the basics - and insist that we pay more.
But there is a new generation of citizens who ride on buses, subways and roads, work hard, pay taxes and expect to take pride and comfort in their cities. We will want to know exactly what it is that we are buying - what options are available, what they may or may not deliver and what they cost - economically, socially, environmentally. We will not be easy to placate with vague platitudes and assertions. We have, after all, been left holding the bill.
Urmi Desai is an economic analyst and a freelance writer specializing in urban issues. She is editor of the Move Smartly blog. Email Urmi
Share This Article