Jesse in Toronto Neighbourhoods
Joining Allenby and Corso Italia is yet another of Toronto's smaller areas, the neighbourhood of Caribou Park (check out Realosophy's Neighbourhood Profile for stats in housing and schools). Hidden within larger neighbourhoods, Caribou Park is contained within the borders of Lytton Park, Glen Park and Ledbury Park. On land that once was part of the Snider Family Farm (circ. 1800s), Caribou Park is now almost exclusively residential.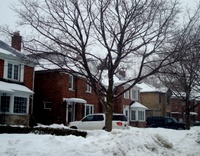 As with many large tracts of land that were held within Toronto's city
limits, the Snider Farm changed
hands and was sold to developers by the
1940s who continued building until the 1960s. A mix of two-storied
homes and bungalows were built along streets with names such as
Coldstream Avenue, Otter Crescent and Caribou Road which bisects the
neighbourhood; a few low-rise buildings are located along Lawrence
Avenue West. Caribou Park homes are reminiscent of the styles and designs that can be found on Toronto Island - where the variety of finishes and facade choices
differ from house to house, they all manage to add to the consistency of the area. As with any
neighbourhood, there are clusters of houses that were built with the
same floor plans (this is assumption, I have only seen the outside) but
HomeOwners have added touches here and there so no two homes are really
alike.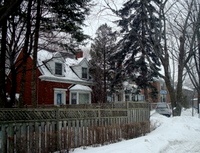 Otter Creek Park and Caribou Park are two recreational spaces found within this neighbourhood. Otter Creek Park contains outdoor tennis courts (for summer use) and an outdoor artificial ice rink which controversially closed for the season March 2. Catholic, Jewish and Public schools are located within
walking distance around the neighbourhood.
Driving in and around Caribou Park is relatively easy as the wider roads cater well to street parked cars and passing traffic. William R. Allen Road is accessible via Lawrence Avenue West and provides a quick link to the 401 highway both east and westbound. Taking public transit? Bathurst Street #7, Lawrence Avenue West #52 and Avenue Road #5 are bus routes that service the peripheral streets of the neighbourhood which is also only a short walk to Lawrence West subway station.
Retail space is limited to the section of Bathurst Street that defines Caribou Park's western border. Lawrence Plaza lies kitty-corner to this neighbourhood and offers many amenities to surrounding residents and, along with nearby Yorkdale Shopping Centre, should satisfy all shopping needs.

Jesse Fleming is a freelance writer based in Toronto. Email Jesse
Subscribe to the Move Smartly blog by email
Nearby Neighbourhoods:
Share This Article