Jesse in Toronto Neighbourhoods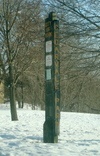 The neighbourhood of Humewood-Cedarvale is a result of the amalgamation of the former communities of
Humewood and Cedarvale (check out Realosophy's neighbourhood profile for local school and housing stats).
Sir Henry Mill Pellat, the brains behind Casa Loma, desired to build an exclusive, gated subdivision that was to be crowned "Cedarvale". As history tells us, Sir Pellat went bankrupt following World War One which prevented both of his dreams from coming to fruition. Iron gates located at the corner of Bathurst Street and Claxton Boulevard indicate the original entrance to Sir Pellat's Cedarvale, and remind Torontonians of what might have been. William Hume Blake, the first professor of civil and common law in Toronto, owned land in what is now the southwest corner of this neighbourhood. His estate had been known as "Humewood."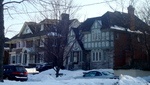 I had quite a challenging time trying to categorize and describe the homes in this neighbourhood. The windy, one-way streets lead from more traditional styles, found dappled throughout older Toronto communities, to homes that gradually become intricate and imposing as the roads follow the terrain toward Cedarvale
Ravine. House designs seem to flow between history and modernity and are reflected by outward details ranging from brick, siding and stonework to paneled wood and glass. The Forest Hill, one of Toronto's newest luxury condominiums, is set to be erected at the corner of Bathurst and St. Clair Avenue West, adding yet another dimension to the styles of living within this area.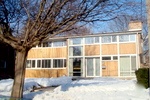 Reflecting the large Jewish population throughout Humewood-Cedarvale, there are two Jewish private schools as well as the century-old Holy Blossom Temple located within its borders. As with any neighbourhood in Toronto, an array of languages are spoken: English, Tagalog and Spanish round out the most popular dialects spoken in this particular neighbourhood. Eight public and two Catholic schools also provide educational choice for the community.
St. Clair Avenue West forms the southern border of Humewood-Cedarvale. Here, the TTC streetcar offers one more mode of transportation in addition to the four bus routes and two subway stations that service this neighbourhood. Retail stores also appear along this stretch of Humewood-Cedarvale including a nearby multi-purpose chain grocery store that is located on the east side of Bathurst and St. Clair West.
Throughout my research, an interesting fact could not escape my attention. Renowned author Ernest Hemingway had taken up residence in a Bathurst apartment from 1923 to 1924 during the time he was writing for the Toronto Star. Now known as "The Hemingway", this building is an example of how Humewood-Cedarvale continues to intertwine its storied past into its modernity.

Jesse Fleming is a freelance writer based in Toronto. Email Jesse
Subscribe to the Move Smartly blog by email
Nearby Neighbourhoods:
Share This Article