Jesse in Toronto Neighbourhoods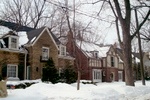 Incorporated into the City of Toronto in 1912, the neighbourhood of Lytton Park hit its construction peak
between 1946 and 1960 (check out Realosophy's Lytton Park neighbourhood profile for local school and housing stats). Today, with the advent of the Lytton Park Resident's Organization, this community retains its status as one of Toronto's oldest and most established areas.
Straddling Avenue Road and bounded on the east by Yonge Street, these two arteries offer easy travel into and out of the downtown core. Buses, including the 5 Avenue Road, 14 Glencairn Avenue, 97 Yonge Street and 52 Lawrence Avenue West, shuttle passengers to and from surrounding subway stations, creating an alternate mode of transportation should residents want to leave the car at home.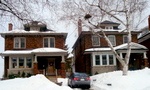 Throughout my initial research of Lytton Park, I found that the majority of
descriptions concerning housing styles referred to the Georgian-style as its dominant model. Although houses built in this fashion are found within Lytton Park, it is by no means the solitary design. West of Avenue Road, impressive, unique houses sit along tree-lined streets and command attention, drivers frequently slow to take it all in. Two-storied, detached homes range in styles from the previously mentioned Georgian to shingle-style and colonial revival. This does not begin to describe all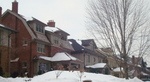 the homes in this area as some are just not meant to be categorized. A length of row houses line the stretch of Avenue Road and contain sunken back lane-ways and hidden garages which deceive the eye when attempting to gage the size of these homes. Throughout the eastern portion of Lytton Park, residential streets contain a noticeable increase of American four square-styled houses.
Lytton Park, and the recreational park of the same name, were built on top of dried-up river beds that are viewed on walking tours through the neighbourhood. Once upon a time, horse-operated transit was the only means available to get to and from this neighbourhood that sits north of the city. These are times long past as its proximity to Yonge Street's retail facilities brings everything within walking distance.

Jesse Fleming is a freelance writer based in Toronto. Email Jesse
Subscribe to the Move Smartly blog by email

Nearby Neighbourhoods:
Share This Article