Jesse Fleming in Toronto Neighbourhoods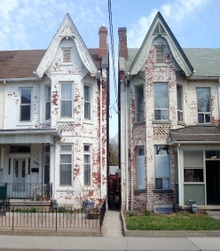 My favourite Toronto housing style has always been, what I call, the 'downtown house.' They are numerous within Dufferin Grove (check out Realosophy's Dufferin Grove profile for local school and housing stats), as well as many other older Toronto neighbourhoods, and I never grow tired of admiring them. These tall, narrow, Victorianesque three-storied houses can be found in semi-detached and fully-detached models; some have steep peaked roofs and others sport flattened tops. I had an internal squeal of delight when walking amongst these
neighbourhood streets lined with vespa-occupied driveways and chocolaty
scents wafting from the Nestle Food Group, just west of Dufferin Street - it was complete and utter sensory overload.
Along Dufferin Grove's borders of Bloor Street West, Dundas Street West, Ossington Avenue and Dufferin Street, a portion of this neighbourhood's apartments can be found in the form of high-rise buildings and units located above retail stores - Juliet balconies pepper the outsides of these otherwise discreet abodes. Within the neighbourhood, many larger houses have been subdivided and rented as individual apartments varying in size. The Church Lofts located at Dovercourt Road and Bloor Street West are currently under construction.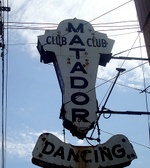 The busier outer streets of this community are home to many independently-owned fruit stands, convenience stores and textile shops which stand next to small pubs, restaurants and cafes. Toronto's infamous
Matador club holds court in Dufferin Grove, sitting at the corner of Dovercourt Road and College Street across from a Starbucks and YMCA. Named after the country villas of the original settler families, the inner streets remain residential.
All three TTC services (subway, streetcar and bus) provide service to Dufferin Grove and run frequently throughout. Traffic is heavy along the major arteries of this neighbourhood and drivers should pay heed to specified times that restrict parking and turning on various streets.

Dufferin Grove Park (across from Dufferin Mall) holds a year-round farmer's market at its north end adjacent to the many amenities that this park offers including a variety of sporting utilities and brick pizza ovens. A delightful city green space, I have yet to visit this park when it has not been bustling with activity.
Note: Despite my search, I have not been able to find the proper name for the housing style which I have dubbed the 'downtown house'. For consistency (and my pleasure), I will continue to use this name in future posts when describing the Toronto neighbourhoods in which they are found.
Jesse Fleming is a freelance writer based in Toronto. Email Jesse
Subscribe to the Move Smartly blog by email
Nearby Neighbourhoods:
Share This Article