Jesse Fleming in Toronto Neighbourhoods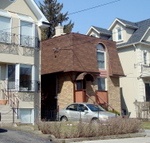 Similar to any older Toronto neighbourhood, the trend of knocking down post-war homes (usually bungalows) and building grander, modernized abodes in their stead is prevalent on any street throughout Ledbury Park (check out Realosophy's Ledbury Park Neighbourhood Profile for local school and housing stats). Notable is the evidence that, despite the bungalow being added to Ledbury Park's endangered species list, dappled in between new and ongoing construction are reminders and variations of these 1950s favourites that once dominated the entire area.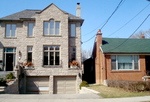 Generally all-brick, Ledbury Park's bungalows starkly contrast the new builds that tower over them in every category from size difference to facade and landscaping. Building a new home on the lot which a smaller bungalow once stood has created streets of tall, multi-storied houses whose proximity to their smaller counterparts creates an illusion of sorts, making them seem narrower, almost gothically menacing in shades of beige and stone. Of course, this changes from street to street. There are residences throughout the neighbourhood that have been designed and built to make the most of their limited lot size and are not shaped like conventional homes - similar styles can be found in Caribou Park, Lawrence Park and Humewood-Cedarvale. High-rise and low-rise buildings can be found along the peripheral, busier streets.

TTC buses #7 Bathurst, #52 Lawrence West and #61 Avenue Road North provide public transit to the residences and amenities within Ledbury Park. Armour Heights Community Centre and Library, restaurants and day spas are all located within Ledbury Park's borders; Lawrence Plaza lies just outside the south western border. The Shim-Sutcliffe designed Ledbury Park,complete with outdoor ice rink/reflecting pool, sits adjacent to Ledbury Park Elementary and Midde School and is flanked by Woburn and Brookdale Parks. For residents who drive, Highway 401, Ledbury Park's northern border, is easily accessible via Bathurst Street and Avenue Road. An abundance of four-way stops and roundabouts help control traffic throughout the area.
Very family oriented, strollers and wagons make up most of Ledbury Park's sidewalk traffic; however, I did see a very busy dog walker trying to untangle his charges on the particular spring day that I visited the area.
Jesse Fleming is a freelance writer based in Toronto. Email Jesse
Subscribe to the Move Smartly blog by email
Nearby Neighbourhoods:
Share This Article