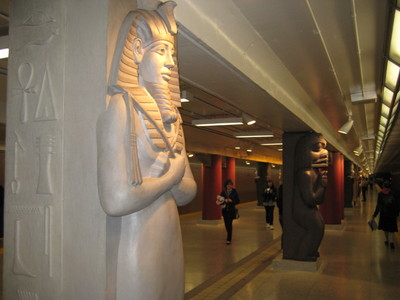 In the end, being in the new Museum subway station was like being in, well, a museum. Or perhaps a coatroom in a museum. Amidst harsh ceiling lights and old floor tiles that had more than one observer wondering if the job was done (below, compare the original artist's rendering, left, to the real thing, right), curious travelers examined new pillars representing the art collections of the Royal Ontario Museum and the Gardiner Museum of Ceramic Art housed above. This brought the total number of people on the platform to about ten, a very good haul for 5pm - and for culture. As I strolled around the platform, I exchanged Mona Lisa smiles with others, pausing and side-stepping, sharing in the rituals of plaque readers with determinedly open minds.
We have already heard a lot from experts and pundits about the new station, unveiled yesterday ahead of a massive, system-wide station modernization project. Typeface enthusiast Joe Clark doesn't appreciate the remake which was made possible in part by donations, seeing it as a break away from the iconography that makes the TTC part of our aesthetic GPS, a subterranean map stamped onto the subconscious. While Matthew Blackett of spacing magazine champions the tile patterns unique to each station in the form of collectible buttons, Councillor Joe Mihevc, a TTC commissioner, rather pigeonholes the work of tilers in declaring that the entire system looks like a giant bathroom. But what do commuters think?

It was hard to find anyone that actually commutes to or from this particular station, as most had taken detours to check out the renos. While Burl Crone, an Architectural Masters student at the University of Toronto, feels that aesthetic facelifts make high-traffic public spaces more "civilized," his companion felt the display looked a bit underwhelming - dare we say cheap? Tianna Uchacz, a U of T Art History student, quickly picked out visible pillar seams and noted the lack of glass displays which lend an air of authenticity to similar underground displays in Europe. When it came to objets d'art, a glass-cased fire extinguisher along with a pay phone is as close as we got (see photo left).
Some wondered about the millions being spent on decor when passengers on the northbound to Finch can look forward to daily smotherings and other ways not to make friends and influence people. But in general, the subway renovations were welcomed as 'mood-enhancers' on long journeys. Commuter Eugene Burtman, originally from St. Petersburg, Russia, pointed out that richly adorned stations are common in his birthplace. John Liu, a data analyst and a 20-year subway commuting veteran, felt that the "stylish" station celebrated Toronto's multicultural identity (at the very least, it celebrates the multi-civilizational scope of 20th century curation).
All agreed that the station was ultimately about tourists and day trippers. Many felt that they would be more likely (or "reminded") to visit the museums above, though some educational advertising on the now blank walls would probably be a good idea - one man waiting for a train remarked that it was clever to have decorated the station in honour of its name.
After half an hour of snapping pictures, looking around and waiting for others to finish looking around, I felt a tad overexposed on the quickly emptying platform. It was time to go home - time to watch an exhibition of another kind in the bustling stations along the Danforth. Like the Distillery, Museum station has joined the ranks of the themed public space in Toronto - spaces we pass through and admire, but ultimately leave behind.
Urmi Desai is a policy analyst and a freelance writer specializing in urban issues. She is editor of the Move Smartly blog. Email Urmi

Photo credits: artist's rendering (above, second top left) from Toronto Community Foundation website and Diamond + Schmitt Architects
Subscribe to Move Smartly by Email
Related Posts:
The Distillery District: Historical Toronto or EuroArt Disneyland?
Share This Article