Jesse Fleming in Toronto Neighbourhoods
Growing up in the suburbs, I had been a frequent patron of the night life on College Street otherwise known as Little Italy. I always described the area as if its entirety was lined up similar to the storefronts along College and the light post decorations shaped like the boot of Italy. It was only after I had moved to Toronto (and lost my suburban blinders) that I realized that there was an entire neighbourhood stemming from College south to Dundas Street West and bounded by Ossington Avenue and Bathurst Street that made up Little Italy (check out Realosophy's Little Italy neighbourhood profile including local school and housing stats).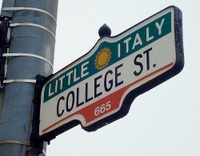 Situated directly north of Trinity Bellwoods, Little Italy contains similar housing styles and it is easy to find yourself crossing Dundas West from one to the next (as I did) without realizing it. Semi-detached and two-storied are the popular styles among the otherwise eclectic mix of abode. Generally, I found a pattern of similarities between homes that sit on the same street and differing from street to street. Multi-unit residences are more prominent here than in Trinity Bellwoods although I am not sure if it is due to greater numbers in Little Italy or higher visibility. Along the outer streets, apartments above retail stores are a common sighting as are fire escapes which I have hopelessly romanticized a la Pretty Woman.
An initial meeting and residential place for post-World War Two Italian immigrants, the area became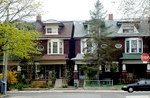 more of a social destination for Italian-Canadians as they began moving further north into Corso Italia. Today, there is a noted diversity among the residents, including a large Portuguese presence. Retailers are reflective of this; however, the area still retains its Italian flavour through events such as Taste of Little Italy and the many cafes serving espresso and gelato that are found in the area.
Streetcars and buses run frequently through Little Italy and, along with cyclists, weave through the sometimes snail-paced traffic. A rather large box grocery store stands on the south side of College, and while I do not doubt its convenience, something is lost from the general feel of the area. Observing this leads me to believe that those residents of Leslieville, who are adamantly against a similar fate, just might be onto something.
Jesse Fleming is a freelance writer based in Toronto. Email Jesse
Subscribe to the Move Smartly blog by email
Nearby Neighbourhoods:
Share This Article