Jesse Fleming in Toronto Neighbourhoods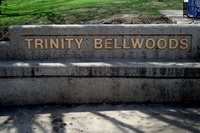 A friend of mine named her dog after it. Former Sault St. Marie band Treble Charger wrote a song about it. The neighbourhood of Trinity Bellwoods seems to leave an imprint on those who reside and spend their leisure time within its borders (check out Realosophy's neighbourhood profile for housing and school stats). One fine day I decided to visit the area that Toronto Life referred to as "the epicentre of Toronto cool", hopped on the 63 Ossington bus and headed into Trinity Bellwoods.


Toronto's Gallery District runs the stretch of Queen Street West beginning west of Ossington Avenue and continues roughly to Trinity Bellwoods Park. Art galleries and showrooms, including the Museum of Canadian Contemporary Art, line this leg of Queen West; the MOCCA is situated beside Robert Burley's impressive building-side mural. The city's Fashion District continues along the eastern leg of Queen West, up to and beyond Bathurst Street, Trinity Bellwoods' eastern boundary. Independent restaurants and cafes, along with varied retail amenities, dapple Queen West; however, I could not resist the siren song of Starbucks at the corner of Claremont and Queen.
Trinity Bellwoods Park lies almost in the center of the neighbourhood and runs the expanse of Gore Vale Avenue from Queen West to Dundas Street West. Seeped in local history ,arborist-led Toronto Tree Tours explore the aged, usually overlooked, trees of the community while sidewalk signage traces the long lost path of Garrison Creek that winds through the park and along Ossington. Home to Queen West's fabled white squ

irrels (which I have yet to see), and the original gates of Trinity College (located here until 1925 federation with University of Toronto) picnickers, hula hoopers, sun tanners, joggers and dog-walkers all enjoy this multi-purpose city green space.
Spring in Trinity Bellwoods is renovation and repair season, as it is in many Toronto neighbourhoods. However, Trinity boasts a distinct lack of orange construction
fences and complete demolition projects, qualities which are so prevalent in the neighbourhoods to the north. Residents refurbishing front porches, siding and windows
were doing so in smaller scale constru

ction settings with a do-it-yourself feel. The collection of semi-detached, fully-detached homes and my coveted 'downtown house', some in traditional brick and others painted in a jellybean
palette, maintain an air of uniqueness that is not lost on the rest of the neighbourhood. Semi-detached homes closer to Bathurst are of the same styles that can be found in more suburban neighbourhoods such as Tam O'Shanter-Sullivan and Woburn.
The broad scope of this neighbourhood ranges from the support offered by the Centre for Addictio

n and Mental Health (formerly Queen Street Mental Health Centre), the influential areas boasting fashion and art galleries along Queen West and the Portuguese influence along Dundas Street West all meld together
with a dash of the past to make Trinity Bellwoods a remarkable Toronto neighbourhood.

Jesse Fleming is a freelance writer based in Toronto. Email Jesse
Subscribe to the Move Smartly blog by email
Nearby Neighbourhoods:
Share This Article