Jesse Fleming in Toronto Neighbourhoods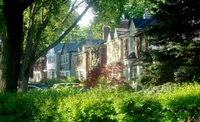 If there was ever a more family-oriented neighbourhood in Toronto, I have yet to find it. The
neighbourhood of Leaside was a planned residential area whose developers aimed to create a Rosedale-type community west of Laird Drive; commercial property was reserved east of Laird and along Bayview Avenue. Sticking true to these original ideas, the dense housing that makes up the bulk of the neighbourhood has managed to keep retail spaces to a minimum aside from the previously mentioned main arteries (check out Realosophy's Leaside neighbourhood profile for local school and housing stats).

Once a settlement for Loyalists escaping the American Revolution, Leaside is now home to an assortment of housing styles. Zoning bylaw signage has been erected around the junction of Bayview
and Airdrie Road outlining a 140-residential rental unit and 50-residential townhouse project to come. Currently, multi-unit low-rise buildings are found along Bayview Avenue, McRae Drive and Millwood Road and are generally surrounded by fully and semi-detached houses. Dutch colonials and colonial revival styles are popular but are by no means the dominant style. Common to most north Toronto areas, American foursquare homes, bay-windowed bungalows and current/post-renovation projects are also very much a part of Leaside. Preferred facades differ as much as housing styles and range from stucco to all brick to wooden siding. If my spidey-sense was correct, I noticed a number of homes sporting cedar shingled roofs.
Commercially speaking, South Bayview, south of Eglinton Avenue east, has a number of independent shops and restaurants whose competition can be found along Laird Drive in the shape of big box stores. Contrasting neighbourhoods such as Little Italy, the big box collection does not seem as out of place here. A reason for this could be attributed to the ongoing construction to the east of Leaside, incidentally giving the surrounding area a not-yet-finished feel. Car dealerships and auto-body shops are common along the southern portion of Laird; the further south of Eglinton you go, the more industrial Laird gets.
I am not sure whether or not the reason lies in the rhyme but whenever I hear 'Leaside' I conjure up visions of a seaside village. The neighbourhood is miles from the sea, but does provide visions of a different sort. The residential areas are quiet and teeming with children playing road hockey and basketball, which contrast the outer streets of Bayview Avenue and Laird Drive teeming with traffic of both vehicle and pedestrian varieties. South Bayview street signs say 'A World of Difference' - this pertains to the variety found within Leaside as much as it refers to the neighbourhood's standing when measured against surrounding communities.

Jesse Fleming is a freelance writer based in Toronto. Email Jesse
Subscribe to the Move Smartly blog by email
Nearby Neighbourhoods:

Share This Article