Jesse Fleming in Toronto Neighbourhoods
Hoggs Hollow has always been one of those neighbourhoods that I had heard of but never quite knew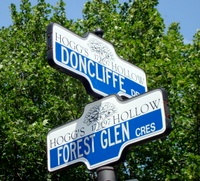 where it was or what to expect when I got there (check out Realosophy's Hoggs Hollow Neighbourhood Profile for local housing and school stats). Conjuring up visions of a semi-visited slice of Toronto enshrouded in mist, I really was going into this neighbourhood blindly. Originally settled by a Loyalist family in 1794 and then by namesake James Hogg in 1824 the majority of the neighbourhood sits hidden amongst the hills of Toronto's Highland Creek Ravine just south east of the Yonge Street-York Mills Road intersection.
Venturing into Hoggs Hollow is a sensory experience. Cracked asphalt roads that spot the neighbourhood are not bound by sidewalks; car tires create a gravely-crunch while they slowly drive by pedestrians walking on the roadside. Century-old trees and wild flowers flood the roadsides and deceptively hide the few driveways and homes that have been built high above the street. Traditional fences are all but forgotten, instead residents make use of more natural means to divide properties such as hedges and shrubbery.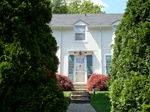 The southern most street of Hoggs Hollow, Doncliffe Drive, proceeds towards the Rosedale Golf Club only to loop around back to Glen Echo Road. Unlike the rest of the shady, sunken neighbourhood this portion sits at the same level as Yonge Street and basks in sunlight all day long. Homes here, as well as throughout the entire area, range from a variety of colonials (Spanish, German, Georgian and Neo) to gothic revival to tidy cottages. As previously mentioned, some sit high above the street and are accessible by winding drives and steep staircases while others are closer to roadsides and are hidden by the canopy of trees and hedging. Townhouses along York Mills and multi-unit buildings on Yonge Street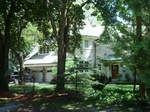 complete the housing spectrum within the neighbourhood.
Infrequent traffic make this sidewalk-less community appealing to those who seek out a slower paced, cottage country-esque piece of Toronto. TTC buses run along Yonge Street and York Mills to and from the York Mills subway station which is rumoured to be haunted; GO Transit also provides bus service to this station.
The gardens and natural greenery flow together with the houses and it is easy to forget that the "longest street in the world" lies just to the west. Two of James Hogg's original cottages have been incorporated into Auberge du Pommier intertwining one of Toronto's founding families with one of Toronto's finer dining experiences.

Jesse Fleming is a freelance writer based in Toronto. Email Jesse

Nearby Neighbourhoods:
Share This Article