Jesse Fleming in Toronto Neighbourhoods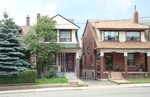 The neighbourhood of Regal Heights is situated just east of Corso Italia. Due to this close proximity, I had assumed that the housing styles and general neighbourhood appearance would be somewhat homogenous throughout the two much like siblings of a common Toronto parent. It was only after I spent time in Regal Heights that I was reminded that, like fraternal twins, neighbourhoods can differ greatly from one
to the next, even if they do sit right next to one another (check out Realosophy's Regal Heights Neighbourhood Profile for local housing and school stats).
Bounded by St. Clair Avenue West, Regal Heights cannot help but absorb some of the Italian flavour that spills over from its neighbour to the west. Davenport Road, Dufferin Street and Oakwood Avenue act as Regal Height's remaining three borders and are mostly residential throughout this particular neighbourhood with smaller retail stores peppered throughout.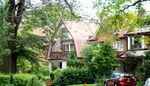 'Whimsical' was the first word that came to mind as I toured this area. Brick finishes that would be at home on a medieval castle and almost comically large, arched doorways are just two of the characteristics that make homes in this neighbourhood unique. Originally built from 1912 to 1923, semi and fully detached homes can be found within Regal Heights however the semi-detached contingent are more frequently found closer and on the outer streets; some homes have been remodeled and transformed into multi-unit dwellings. The very active Regal Heights Residents' Association has been consistently encouraging community involvement in a variety of yearly activities and meetings for the past thirty-four years all the while reiterating to its residence that their neighbourhood is a unique community within Toronto and Canada.
The Davenport Escarpment is the reason for the unavoidable steep hills that lie along the road of the same name. Gradually, as you work your way south through Regal Heights, homes become further and further set back from the road and the stair climb to their front doors becomes longer and longer. Shady tree lined streets make this particular neighbourhood seem like a deliciously cool location for summer bike rides and jogging. Use with caution - I can attest that the hilly terrain can be deceiving and is not for the faint of heart.
Jesse Fleming is a freelance writer based in Toronto. Email Jesse
Nearby Neighbourhoods:
Share This Article