Jesse Fleming in Toronto Neighbourhoods.
Bounded by Lawrence Avenue East, Snowden Avenue and Mount Pleasant Road, the neighbourhood of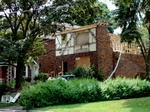 Wanless Park relies on the lay of the land to form its eastern border (check out Realosophy's Neighbourhood profile for local housing and school stats). A leafy ravine lies just outside this particular neighbourhood and contributes to what I have dubbed 'controlled overgrowth' of the ravine properties - gardens appear to be planned and maintained but do not seem to be meticulously pruned allowing for a whimsy communal garden appearance.
Wanless Park, located in the lower central portion of the neighbourhood, is situated amongst streets that in one way or another lead to it, past it and circle it. With its five tennis courts, wading pool and many other amenities Wanless Park is a high traffic outdoor space. Throughout this portion of the area there are no sidewalks, a characteristic that seems to oppose this family-oriented community.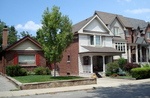 Wanless Park showcases a variety of homes that are a mixture of bungalows, semi-detached, fully detached and rebuilds. Homes located around the park are most often fully-detached and have been renovated and updated. A trend I noticed is that many of the older homes do not have garages built on their properties and it is only assumption that a garage addition signifies a large renovation project. Conservative square bungalows are more common here although they do pepper the rest of the neighbourhood. Continuin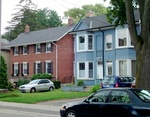 g onto Ronan Avenue, and the streets that run between it and Mount Pleasant, semi-detached and fully-detached homes of many shapes, sizes, finishes and colours dominate.
The Yonge subway line lies within walking distance of Wanless Park and for those days where walking is not in the cards, the 54 Lawrence East bus provides service to and from the station. The lack of sidewalks creates enough room for wide streets, creating an environment for easy driving along the residential streets that surround the park. Throughout the western streets of this neighbourhood driving becomes a little more complicated due to the narrowing roads with street-parked cars.
Jesse Fleming is a freelance writer based in Toronto. Email Jesse
Nearby Neighbourhoods:
Share This Article