Jesse Fleming in Urban Issues.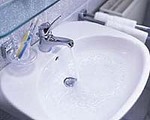 Furthering Toronto's green initiative does not end at the array of garbage collection bins that have been distributed to residents throughout the city. Toronto's Water Efficiency Plan addresses one of the resources that many of us (myself included) take for granted. I am becoming more aware that clean water is a commodity not to be taken so lightly because there is a possibility that one day it might not be as accessible. This is one fact that I cannot seem to wrap my head around an ashamedly I still leave the water running while brushing my teeth - the clean-freak in me detests the toothpaste foam that gathers around the drain.
Gracing garbage bins throughout the city are signs advertising Toronto's Toilet Replacement Program.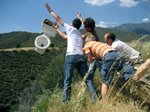 Directed at locations which contain more than a household amount of commodes (multi-unit buildings, institutional, commercial and industrial properties) this program offers monetary incentive for replacing water guzzling thirteen litre tanks with more efficient six litre (or less) ones. Ranging from $60 to $150 the payments vary according to model and efficiency of the new installation. Keep in mind that not all six litre toilets are created equal - a city approved list is located on the website along with rules of eligibility and steps to apply for the reimbursement.
Washing machines have also become appliances of interest when considering water consumption. According to a City of Toronto study, multi-unit machines can cost upwards of $860 per year for each traditional top-loading machine. A $100 incentive is being offered to property owners and managers of any multi-washing machine location who revamp their laundry facilities and install high efficiency, front-loading machines. This cash back program applies to each washing machine replaced in locations such as apartment buildings with common laundry areas, laundromats, health clubs and salons (a full list of who is eligible can be found here). A similar program is offered to residential home owners with a rebate of $60 for replacement of their old washing machines.
Unlike the Refrigerator Round-Up (where Toronto Hydro hauls away your old fridges) the onus is placed upon the owner to replace and get rid of their toilets and washers then apply for the incentive. With the proposed 9% water rate hike for 2009, smaller, common sense changes can be applied to decrease your water intake (and utility bill) until larger plans can come into fruition. Placing a pint jar full of coins in your toiler tank reduces water with every flush and reducing shower times can add up to notable savings and water conservation.
Jesse Fleming is a freelance writer based in Toronto. Email Jesse
Share on Facebook • Email this • Save to del.icio.us • Stumble It!
Photo Credits:
www.terradaily.com
www.edgartoilet.blogspot.com/2007/12/toilet-toss.html

Share This Article