Jesse Fleming in Toronto Neighbourhoods.
Christie Pits is a neighbourhood bordered by Bloor Street West, Ossington Avenue, Christie Street and the railroad tracks that lie just north of Dupont Street. A seemingly typical older Toronto neighbourhood, I had accepted that it was dubbed 'Christie' after its eastern border with which it shared its name; where the 'Pits' came from was anyone's guess. Only after delving into the past did I discover that Christie Pits is far from a typical Toronto neighbourhood (check out Realosophy's Neighbourhood Profile for school and housing stats).
Christie Pits Park, once known as the Christie Sand Pits, was a excavation site until the early 1900s. The sunken area, officially named Willowvale Park but affectionately known as Christie Pits, was annexed to the City of Toronto and opened as a public recreation site in 1908, increasing in size throughout the 1920s. Mirroring the growing anti-Semitic sentiments in Europe, Christie Pits was the site of a massive post-baseball game riot in 1933 between Nazi sympathizers and immigrants of Jewish and Italian descent. In August of 2008 a Heritage Toronto plaque was installed to mark the seventy-fifth anniversary of the riot that has been woven into Toronto legend.
Today, the popular recreational park sits in the south-east corner of this bustling neighbourhood. Bloor Street West is a busy street lined with apartments sitting atop stores and is a nice contrast to the quieter interior residential streets. Semi-detached and fully detached homes are the dominant style found throughout the bulk of Christie Pits. One-way streets with limited space hamper on-the-street-parking however these narrow two-storied homes have myriads of lane ways that wind in behind the properties and lead to private, residential parking. I noticed front walk-out base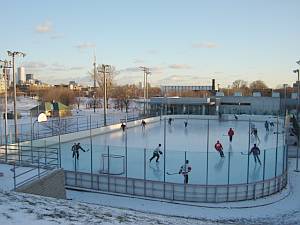 ment access which led me to assume that basement tenants are common.
As with almost every Toronto neighbourhood, newer construction has touched areas of Christie Pits. Torontonians, new and old, are permanently settling in this area's original homes as well as new builds. Essex School, Hawthorn Bilingual Alternative School and St. Raymond School are all located within the borders of Christie Pits as are two grocery stores, a community and recreation center and Christie subway station (the mismatched tiles resulted from a subway train fire in the station in 1976). As this neighbourhood continues to grow, the park remains central to the community as a meeting place, a competitive playing field and a living reminder of how far the multicultural Toronto of today has come.
Jesse Fleming is a freelance writer based in Toronto. Email Jesse
Nearby Neighbourhoods
Photo: Christie Pits Park 1923; Christie Pits Park 2007
Photo Credit: http://cityrinks.ca/wiki/wiki.php?n=ChristiePitsRink.FrontPage

Share This Article