Urmi Desai in Real Toronto, Toronto Neighbourhoods
Who knew that the wonderful summer we enjoyed would lead to an extremely bitter fall? According to prominent voices in one of the most depressing Toronto mayoral races ever, we must live somewhere between the USSR and New Orleans.
Toronto does have problems - uninspiring leadership at all levels of government, the free fall that is the TTC, persistent issues of poverty and social isolation, violent quarrels re strollers in public places, the suspicious feeling that the organic greens you are overpaying for have been picked out of a Markham ditch and potential racial unrest due to a) the domination of overachievers at university and b) the threat of Lake Shore the reality show.
But we have been spared the complete jobs collapse the Americans are suffering through, along with severe austerity measures in Europe, we continue to be fairly peaceful for one of the most pluralistic cities on earth and a lot of our neigbourhoods are getting tastier while remaining artfully dodgy mixed (disclaimer: I think like this because I live in Leslieville).
To wit, the BBC/Lonely Planet travel website is featuring Toronto's diverse, neighbourhood-centric charms - see "This is Toronto Week". Speaking of pleasantly gritty Kensington, a gallant friend treated me to one last birthday dinner at the soon-to-be-gone neighbourhood gem, La Palette - a true Toronto original. And I discovered that at least one downtown hotel, Hotel Le Germain on Mercer, hasn't been completely airlifted in, thanks to their "Made in Toronto" tapas. Call it kitsch, but I love it.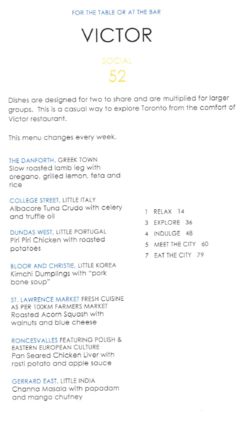 Being furiously bitter need not keep you from being irrationally proud of your city - witness a New Yorker at the office water cooler to see this principle in action (I for one think the wrong George ran against Ford). So this winter, let's a) join one organization tackling a Toronto problem and work hard at it (a good way to mark the sacrifices we remember on Remembrance Day - be inspired by this Toronto example), b) remember that it's way worse in most other places on earth, c) be horrified at the idea of living anywhere else and d) get out and eat something tasty at whatever price point you can muster. May I suggest inexpensive Indian sweets at this most auspicious time of year?
Happy Diwali and Sal Mubarak!
Urmi Desai is editor of the Move Smartly blog and is responsible for Realosophy's business development and marketing. Realosophy Realty Inc. Brokerage focuses on researching Toronto neighbourhoods to help their clients make smarter real estate decisions. Email Urmi
Subscribe to the Move Smartly blog by email
Share This Article