John Pasalis in Real Estate Roundup
Housing Affordability Improves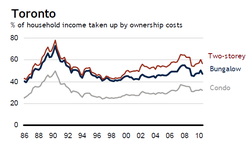 According to a Royal Bank report published this week, homes are becoming more affordable everywhere in
Canada. They noted that their affordability measures for Toronto are inline with long term averages. See chart.
The report also mentioned that the the slow down in demand in the summer months had more to do with special factors like the HST and new mortgage guide lines that inflated demand during the first half of the year, an opinion I expressed in my September Market Statistics report.
Housing Trends and Affordability (Royal Bank)
Condo Price Appreciation: The Best and Worst Cities in Canada (BuzzBuzzHome)
Housing becoming more affordable (Globe and Mail)
RBC predicts stability in housing market (Globe and Mail)
Cheaper to own home now, report says (Montreal Gazette)
Housing affordability improves in GTA (Toronto Star)
Canadian housing more affordable last quarter (CTV)
Other Real Estate News
TD CEO Supports 25-year Amortization Maximum (Canadian Mortgage Trends)
Will Bank of Canada regret hiking interest rates? (CTV)
Condo sales leap ahead (Globe and Mail)
Making a return on your mortgage (Globe and Mail)
Commercial property tax is Canada's 'cash cow' (Globe and Mail)
Let's Put an End to "Phantom Buyers" (True Condos)
Toronto the most miserable city in Canada: study (Yahoo)
What does the future hold for Wallace and Lansdowne? (blogTO)
John Pasalis is the Broker Owner of Realosophy Realty Inc in Toronto. Realosophy focuses on researching Toronto neighbourhoods to help their clients make smarter real estate decisions. Email John
Share This Article