John Pasalis in Toronto Condos and Lofts, Toronto Neighbourhoods, Leslieville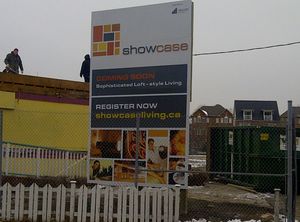 Over the past five years Carlaw Ave between Queen East and Dundas East has evolved into Leslieville's condo corridor. There are currently four completed condos on Carlaw (iZone, Wrigley Lofts, Garment Factory and Printing Factory), two condos under construction (WorkLofts and Flatiron Lofts) and one new project that is early in the pre-construction phase - Showcase Lofts.
Showcase Lofts is scheduled to be built on the vacant lot at the north west corner of Carlaw and Colgate. The developer behind the properties is Aragon properties and according to BuzzBuzzHome the project will be a seven storey, 230 unit loft-style condo.
We'll update this post as we get more information about the project.
John Pasalis is the Broker Owner of Realosophy Realty Inc in Toronto. Realosophy focuses on researching Toronto neighbourhoods to help their clients make smarter real estate decisions. Email John
Subscribe to the Move Smartly blog by email
Share This Article