John Pasalis in Real Estate Roundup
How Hot is Toronto's Condo Market?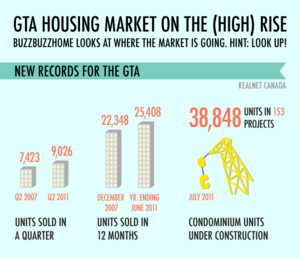 The team at BuzzBuzzHome released another infographic this week, this time showing recent activity and demographic trends in the new construction condominium market.
A few quick facts:
38,848 - Condo units under construction
25,408 - Condo Sales this year up to June 2011
$462K - Index price for a new condo in June 2011
You can browse the complete infographic here.
While we're on the subject of condos, the Wall Street Journal published an article on Toronto's condo market this week raising some questions about the long term stability of the market.
How H-O-T is the Toronto condo market? [INFOGRAPHIC] (BuzzBuzzHome)
Toronto Wary of Condo Correction (Wall Street Journal)
Other Real Estate News
Toronto real estate board votes to open up listing info (Toronto Star)
Real estate board ups battle with regulators (Toronto Star)
Toronto house prices expected to cool through autumn (Toronto Star)
Is the CMHC financing a house of cards? (Globe and Mail)
CMHC: A correction in the Canadian housing market? Not gonna happen! (BuzzBuzzHome)
Financial blogger looks even deeper into Canada's real estate market and doesn't like what he sees (Toronto Life)
Finding shelter in volatile times (Toronto Star)
Variable Rates In Flux (Canadian Mortgage Trends)
Despite Toronto, Montreal gridlock, commuters reluctant to use transit (Globe and Mail)
John Pasalis is the Broker Owner of Realosophy Realty Inc in Toronto. Realosophy focuses on researching Toronto neighbourhoods to help their clients make smarter real estate decisions. Email John
Share This Article