It's school time at Realosophy Analytics! Our month-long feature looks at the special relationship between real estate and schools.
Today's post looks at the top elementary schools in Toronto as measured by the province's latest standardized EQAO scores.
While it's tempting to tape this school list to your goal wall/fridge/dreams and "make it so", it's important to remember that EQAO scores only tell us so much about school quality. For one, standardized testing results tend to favour advantaged socioeconomic groups, which can make the results more about 'who' attends than 'what' is being taught.
Educators also stress that some school strengths - like special curriculums or educational philosophies - fall outside testing parameters. But interestingly, specialty schools are a strong presence on our list. This is likely due to admissions requirements (e.g., for arts schools) and smaller class sizes.
Realosophy Schools for Home Buyers Workshop - Starts Again Sept 2012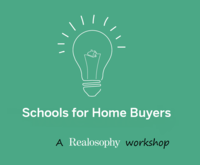 If you're buying a home, schools are likely important to you. To help you make better buying decisions, Realosophy is now drilling down to give you stats on house price appreciation and EQAO score changes at the school district level. Join our free workshop to understand latest trends, get our top neighbourhood picks and ask your own questions in a friendly atmosphere. Our popular workshops take place on the first Saturday of each month. Scroll to the bottom of this post to sign up for the next one. (Learn more about workshop)
The Data
Overall score (in the bright yellow circle) represents an average of the six EQAO tests written by students in 2010-11 (reading, writing and math at the Gr. 3 and Gr. 6 levels)
Covers all Toronto public schools (Note: some schools are too small to report EQAO results and are excluded)
3 Year EQAO Increase represents an average of percentage points change from 2007-08 for all tests
Average house prices for the neighbourhood in 2011
3 Year increase in house prices from 2008 to 2011
Next Up: Most Improved Toronto Schools 2012
Urmi Desai is editor of the Move Smartly blog and is responsible for strategy and marketing at Realosophy Realty Inc. Brokerage. A leader in real estate analytics and pro-consumer advice, Realosophy helps clients buy or sell a home the right way. Email Urmi
Subscribe to the Move Smartly blog by email
Schools for Home Buyers Workshop Sign-up
Share This Article