John Pasalis in Real Estate Roundup
Banks concerned about consumer debt?
Apparently the big banks are concerned about consumer debt and are urging Ottawa to tighten mortgage rules in Canada.
Interesting to see that big banks are not concerned enough to end their current mortgage rate war which a) results in even higher consumer debt and b) adds more fuel to an already heated housing market.
Ottawa urged to take concrete steps to limit growing consumer debt (Globe and Mail)
Online house listings expose sellers to assault, break-ins?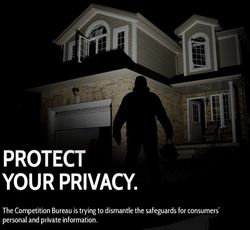 The Toronto Real Estate Board's current battle with the Competition Bureau has taken a truly ridiculous turn.
The Competition Bureau wants to give home buyers the ability to search sold properties online including days on market and sale prices. This is very common in the US where buyers can research their own comparable sales.
TREB launched a big PR campaign this week that suggests giving Torontonians the same access to real estate information that the US has is going to expose sellers to serious risk including assaults and break-ins.
This attached image of a burglar in front of a house is from TREB's protect your privacy website that is encouraging Torontonians to "Take Action".
To even suggest that giving buyers access to real estate information will expose sellers to serious risk is ludicrous. Have US real estate boards been reporting an increase in crime rates because home buyers can search comparable sales? It's embarrassing to see the real estate industry descend to this level.
Online house listings expose sellers to assault, break-ins, TREB says (Globe and Mail)
Paranoid real estate board should join us in the 21st century (National Post)
TREB says murderers and thieves are itching to see Toronto's real estate listings (Toronto Life)
Toronto's Luxury Condo Market
Real estate agent Andrew la Fleur has another great blog post on Toronto's luxury condo market. He breaks down the sales statistics for the Ritz Carleton in detail and asks some good questions about this segment of the market.
I have a few thoughts of my own which I'll be publishing in an upcoming blog post, an update on the post I wrote in October.
I'm also including a couple of links to a post by Don Campbell from the Real Estate Investment Network and a TVO interview with Globe and Mail writer Steve Ladurantaye.
Ritz Carlton: Incredible Opportunity or Canary in the Coal Mine? (True Condos)
Toronto's Condo Market … Cautionary Tale or Full Steam Ahead? (Don Campbell)
Toronto's Condo Craze (TVO - Steve Ladurantaye)
Other Real Estate News
Housing market seen calm, but for 'Toronto tornado' (Globe and Mail)
With winter housing sales up, fears of meltdown in spring demand (Financial Post)
Housing sales, prices up across country, CREA says (CTV)
Canadian home prices inch higher (CBC)
What's driving up house prices in North Toronto? (CTV)
Offshore bids price Canadians out of housing market (CBC)
Canadian real estate prices are falling – not the sky (Toronto Star)
Strong medicine urged for a fevered real estate market (Globe and Mail)
How to find the right real estate agent to sell your house (Globe and Mail)
John Pasalis is the President and Broker-Owner of Realosophy Realty Inc. Brokerage in Toronto. A leader in real estate analytics and pro-consumer advice, Realosophy helps clients buy or sell a home the right way. Email John
Share This Article