Realosophy Team in Media Roundup, Toronto Real Estate News
All you need to know regarding the housing market in Toronto, Canada and abroad.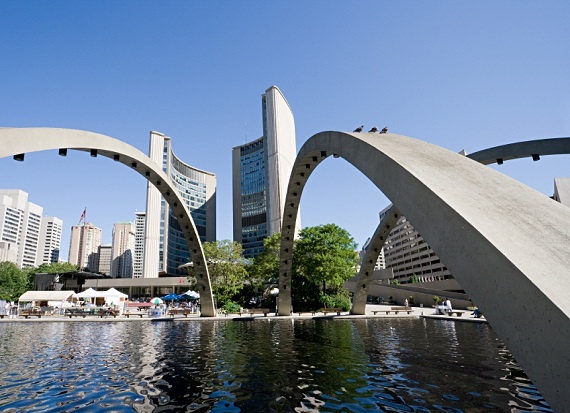 This week in Toronto: Remembering a Toronto real estate mogul, the city's neighborhoods defined by words and profiling a suburb's rapid demographic change.
Elsewhere: Political gridlock hits the U.S housing sector once again, a new rail tunnel makes some folks nervous in Istanbul and can Malaysia afford to build a new business district from scratch?

Toronto
Mayor Rob Ford queries affordable Toronto waterfront homes (Toronto Star)
"Toronto Mayor Rob Ford says a city proposal to build between 70 and 75 affordable rental units in a waterfront condominium building is a waste of valuable real estate."
Paul Reichmann: A real estate 'genius' who became a global player (The Globe and Mail)
"Mr. Reichmann made his name as a gutsy investor who acquired undervalued real estate properties and hired leading architects to build landmark towers. His attention to detail was so great that he once poured water over marble tiles to show prospective tenants how First Canadian Place would shine in the rain."
Toronto: With Neighborhoods Expressed As Words (Urbane)
"The Urbane team worked with Toronto locals to try and decipher the city's many neighborhoods and translate them into easy-to-understand terms. It's a city that deserves to appreciate itself more, and has a diversity like no other."

Markham's rapid change into Canada's most diverse city (The Globe)
"Visit Markham today and you see earth movers tearing up old corn fields for vast new subdivisions, showy new houses faced with fieldstone across the streets from modest 1960s bungalows, parking lots bristling with the marks of BMW, Lexus and Porsche."
Canada
Accuracy of Canada's housing data under scrutiny (The Globe)
"The numbers are getting more attention amid debate about just how inflated the market may be. Nearly all economists agreed that house prices were too high when Finance Minister Jim Flaherty stepped in and tightened mortgage insurance rules in July, 2012."
Can Liam and Sophia afford a million-dollar home? (The Globe)
"These parents want to stay in the Vancouver-area neighbourhood where they've been renting. Can they buy without hurting their plan for retirement?"
Low-rate pledge revives fears of hard reckoning for Canada's housing market (Reuters)
"The prospect of lower-for-longer interest rates, needed to help a struggling economy, has revived those bubble fears."
USA
Senate Republicans block Obama nominee for housing post (Reuters)
"The White House said, however, that it was not giving up on the nomination. "It is enormously disappointing that Republicans would filibuster this nomination of a highly qualified nominee," White House spokesman Jay Carney said."
Building America: map that illustrates when country's homes were built (Daily Mail)
"The map shows that vast swathes of the country's homes in the West and Southeast were built in the 1900s, and even more in the Northeast and Midwest were built in the 1930s or before."
The Big Capital Gains Tax Mistake Homeowners Make (Forbes)
"Imagine making $250,000 and not having to pay taxes on it. That's the generous tax break –the home sale exclusion — homeowners are entitled to when they sell their primary residence for a gain after having lived in the home for at least two of the five years immediately preceding the sale."
Where St. Vincent's Once Stood (NY Times)
"I don't even go past the site because it hurts my heart too much," said Eileen Dunn, a former St. Vincent's nurse and a founder of the Coalition for a New Village Hospital, which took part in protests against the development."

International
Istanbul's underwater Bosphorus rail tunnel opens to delight and foreboding (Guardian)
"Citing the lack of government control mechanisms in the real estate market, Güvenç said poorer residents and small businesses were likely to be priced out of neighbourhoods adjacent to the new metro line."
Can Malaysia Afford To Build A Huge Business District? (International Business Times)
"Malaysia is building an enormous business district in the capital city of Kuala Lumpur, but its shaky finances raise doubts on whether the Southeast Asian nation is capable of such an ambitious undertaking just now."
Share This Article