Realosophy Team in Media Roundup, Toronto Real Estate News
All you need to know regarding the housing market in Toronto, Canada and abroad.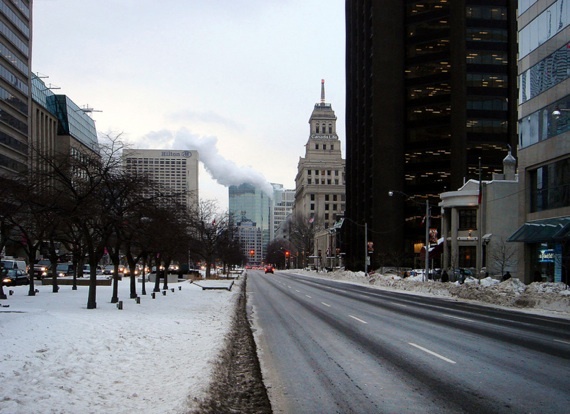 Photo credit: IKs World Trip

This week in Toronto: Do it yourself real estate companies find their footing, a unique design equals a big payday in Leslieville and an iconic bookstore closes its doors.
Elsewhere: Canada's housing market is due for a slip, the ghosts of Fannie and Freddie continue to haunt the United States, China has a supply and demand problem and it's not cheap to live in Moscow.

Toronto
DIY real estate companies look to expand (Toronto Star)
"My goal was never to have unlicensed people stepping into the buying and selling process," he says. "It was simply to have licensed and regulated real estate brokers and agents given the freedom to be able to offer services consumers want."
Why did this Leslieville home sell $96,000 over asking? (Globe and Mail)
"One of the bigger selling features was that the home was owned by two architects. 300 people visited the Leslieville home and the buyer pays $96,000 over asking."
David Mirvish and Frank Gehry Versus Heritage Warehouses (Torontoist)
"At Tuesday's meeting, site owner David Mirvish and architect Frank Gehry will speak in favour of the project, which would replace the warehouses and the Princess of Wales theatre with three towers ranging in height from 82 to 86 storeys. The mixed-use complex would include condos, high-end retail, offices, a satellite branch of OCAD University, and an art gallery housing Mirvish's personal collection."
World's Biggest Bookstore closing down (CBC)
"The store sits on a patch of prime, downtown real estate at 20 Edward St., just one block from Yonge-Dundas Square and the Eaton Centre."
Canada
Canadian real estate market is not in a bubble, Poloz says (Vancouver Sun)
"Our judgment is (the housing market) is a situation that is improving, this is not a bubble that exists here that would have to be corrected," he said. "If there is a disturbance from outside our country that's another analysis."
Canadian housing 21% overvalued, ratings agency says (CBC)
"With a high level of employment and individual net worth tied to the value of the housing stock, a housing downturn could have serious consequences for the overall economy," it warned in the 12-page report."
Canada's recovery stalled, housing still a risk, OECD says (Globe)
"Over all, the OECD study painted a bleak short-term economic picture for Canada – and longer term where unemployment is concerned – but suggests a pick-up over the next two years."
USA
White House Rejects Fannie-Freddie Recapitalization Plans (Wall Street Journal)
"The futures of Fannie, Freddie and the U.S. housing market have been a subject of continual debate in Washington since the companies, facing tens of billions of dollars of losses on mortgage defaults in the housing bust, were placed under government control."
Bush-Backed Singapore Firm Snapping Up U.S. Real Estate At Throwaway Prices (Forbes)
"Early this year, SingHaiyi (then called SingXpress), controlled by low-profile Singapore couple Gordon Tang and Serena Chen announced it was looking to expand beyond real estate in the city state to tap opportunities in the distressed U.S. market."
Grand Vision for Former Home of Walter Reed Hospital (NY Times)
"But the 110-acre site that has been dormant since September 2011 after 102 years in operation will not remain so. The former Walter Reed Army Medical Center, where generations of wounded soldiers received treatment and where President Dwight D. Eisenhower and Gen. Douglas MacArthur died, is due for a civilian makeover."
International
Chinese property market needs to focus on supply (China Times)
"Six weeks remain until year's end and city governments in China are struggling to meet their goal of preventing house prices from rising too quickly."
UK borrowing falls as housing revival boosts public finances in October (Telegraph)
"Britain's housing market revival boosted public finances in October, though the country's growing debt pile and stubbornly high deficit suggested there will be no big giveaways in December's Autumn Statement."
Moscow's premium real estate prices third highest in Europe (Russia Beyond The Headlines)
"Unfortunately, the idea of affordable housing does not work in Moscow. The construction of such housing cannot be allowed if we take strategic planning into account. Even if we wanted to carry this idea into effect, it wouldn't have been physically possible."
Realosophy Realty Inc. Brokerage is an innovative residential real estate brokerage in Toronto. A leader in real estate analytics and pro-consumer advice, Realosophy helps clients buy or sell a home the right way. Email Realosophy
Share This Article