Realosophy Team in Media Roundup, Toronto Real Estate News
All you need to know regarding the housing market in Toronto, Canada and abroad.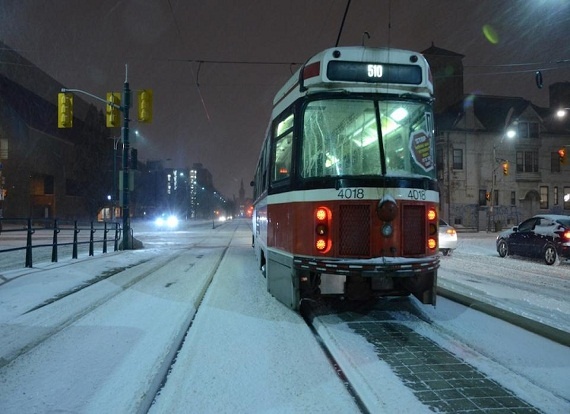 Photo credit: Urban Toronto

This week in Toronto: The city's land transfer tax is hurting buyers, Toronto's housing market is about to get a lot more crowded and a clever way to combat the influx of condo advertising.
Elsewhere: Canada doesn't have a housing bubble, maybe, an American real estate company tells us how much 24 Sussex is worth and the story of an American that built a $2.8 billion mortgage empire.

Toronto
Toronto's land transfer tax: how it works (CBC)
"It has to be paid up front, that's what makes this tax a huge problem," said Palmer. "This cannot be added to your mortgage. It gets [home-buyers] at a time when they can least afford it."

What the experts are predicting for Toronto's housing market in 2014 (Toronto Life)
"That means the next few years will see hordes of millenials trying to make the leap from renter to homeowner—a shift that will have a deep impact on the market."
The hot condo now: Low-rise with an urban vibe (The Globe and Mail)
"As the high-rise condo segment appears to falter and single-family house prices keep soaring, builders are seeking out little parcels of land and under-used brownfields that allow them to cater to an in-between group of urban dwellers. More projects of limited size and scale are filling in neglected pockets of the city."
Kidnapped Condo Ads Become Stealthy Art (Torontoist)
"The idea is simple enough: the three artists kidnapped a few dozen condo sandwich boards from sidewalks around downtown Toronto, then modified them. They covered up the images of gleaming condo buildings with some of their own photography. They also used stickers to block out corporate logos. Then, over the course of the past week, they returned all the hacked sandwich boards to different downtown locations, positioning them for maximum effect."
Canada
Canada's housing market overvalued, but crash worries ease (BNN)
"Canada's housing market has cooled from the most feverish activity so far, in the middle of 2012. Economists, many of whom once expected a sharp price correction, now have a long list of reasons why the market will keep climbing."
Housing Bubble? Canada's Top Banking Regulator Refuses To Say (Huffington Post)
"In comments following her speech, Dickson noted that her office has seen a jump in the number of 30-year mortgages, despite Finance Minister Jim Flaherty's moves to reduce mortgage amortization periods."
Rising prices, mortgages making real estate unaffordable for many (Toronto Star)
"Affordability deteriorated in many of the large markets, but while the average number is only moderately higher than historic norms, RBC notes there is a wide disparity in the associated costs depending on markets, with some appearing out of reach of the average family."
24 Sussex Drive worth $7.2 million, U.S. real estate firm says (Toronto Sun)
"The firm is clearly familiar with Canadian stereotypes. The 24 Sussex "listing agent" is identified as "The Mountie" with an accompanying photo. It also includes a testimonial quote from Stephen Harper."
USA
Chinese real estate influence extends to the Big Apple (CNBC)
"It used to be, if you had a Russian client, the Red Sea parted, and now that's true for the Chinese. If I have a Chinese buyer, I'm going to get any appointment I want. It's amazing."
Building Permits in U.S. Jump to Five-Year High (Bloomberg)
"Housing will still contribute to growth," said Brian Jones, a senior U.S. economist at Societe Generale in New York, whose permits forecast was the highest in a Bloomberg survey. "We have had a backup in interest rates, but I don't think the backup has been large enough to really choke off housing."
How Bill Erbey Built A $2.8 Billion Fortune By Getting Inside Homeowners' Heads (Forbes)
"Bill Erbey is all about 75-hour workweeks and penny-pinching. It's the reason in 2012 he moved his principal office from Atlanta to St. Croix, in the U.S. Virgin Islands, which happen to be an economic development zone. As a result Ocwen now saves 90% on its corporate income tax. It's also the reason Erbey is now worth $2.8 billion and may be the most innovative man in the mortgage business."
International
Property in China: Haunted housing (The Economist)
"Many property developments outside the big cities appear to be ghost towns of this sort. Moody's, a credit-rating agency, laments that a large and rising share of new supply has gone to smaller cities. People's Daily, another official organ, recently fulminated against the "huge waste of resources" such construction represents."
House Hunting Near ... Marseille (NY Times)
"Agents described prices in the area as being in a holding pattern, but there are signs that resales in the overall French market are starting to revive after a bad slump in 2012."
Realosophy Realty Inc. Brokerage is an innovative residential real estate brokerage in Toronto. A leader in real estate analytics and pro-consumer advice, Realosophy helps clients buy or sell a home the right way. Email Realosophy
Share This Article