Realosophy Team in Media Roundup, Toronto Real Estate News
All you need to know regarding the housing market in Toronto, Canada and abroad.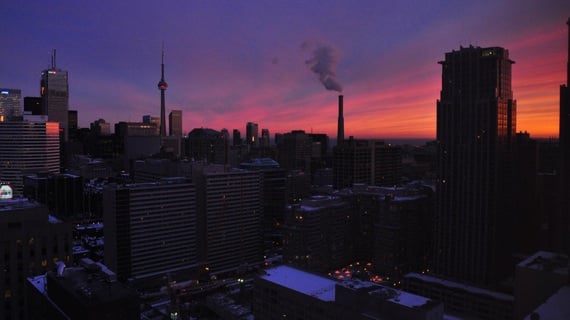 Photo credit: Gynormus-Cranius

This week in Toronto: The holiday season and bidding wars go hand in hand, a new record sale in the Beaches and buyers seeking an abode in the city are forced into the suburbs.
Elsewhere: Watch out for fake real esate ads in Ottawa, the 'Great One' gets paid and New Zealand is on the verge of a housing crisis according to Dr. Doom.
Toronto
Bidding wars in Toronto picking up as year comes to an end (Toronto Star)
"In the end, some 15 people registered bids on the underpriced property, although two of them would later withdraw. By the time the frenzy of offers was over Tuesday, the pleasant house in the sought-after Frankland school district had sold for $785,100 — more than $135,000 over the asking price."
$6.1-million sale sets record for Toronto's Beaches neighbourhood (The Globe and Mail)
"In many pockets of Toronto, the fall real estate market began to run out of steam as November wound down. One deal that snuck in under the wire was the sale of 412 Lake Front for $6.1-million."

Toronto prices, demand forcing buyers into suburbs (Yahoo)
"The growing number of homebuyers who live far from where they work, in car-dependent neighbourhoods, results in longer commutes and contributes to traffic congestion and poor air quality. This hampers the region's economic success and reduces its quality of life," the report states."
King-Spadina Residents Meet to Discuss the Future of the Neighbourhood (Torontoist)
"We're really interested to know how you view your neighbourhood," said Liora Freedman, from Community Planning. "What needs to be updated in these policies to reflect what's on the ground?"
Canada
Fake real estate ads prey on buyer desire for home deal (CBC)
"An Ottawa woman says she was shocked to learn the condo she was selling online was also being offered on another website at a deeply discounted price, part of a complicated scam targeting unsuspecting home buyers."
Foreign buyers shore up high-end housing in Canada with Montreal top destination (Financial Post)
"We live a little bit like French people in North America, which isn't possible in Toronto," said Ricard, 32, who paid $1.15 million with his partner for their new home. "The image Montreal projects in France and elsewhere is the life of the whole world."
A word to the doomsayers: Bank of Canada sees no housing crash (Globe)
"As they held their policy steady today, Governor Stephen Poloz and his central bank colleagues said the market is certainly stronger, but that's at least partly because home buyers are taking advantage of low mortgage rates before they rise again."
Rebound continues in Canada's housing market (Globe)
"Sales of existing homes nationwide in October were 8.3 per cent higher than a year earlier, slightly below economists' expectations. The Canadian Real Estate Association will release November's national data later this month."
Falling condo demand slows Ottawa real estate market (Ottawa Citizen)
"We don't have these wild fluctuations," he said. "It's not like, 'Well we bought, we got transferred and now we have to sell and the market's tanked.' That happens in Toronto and Vancouver a lot because they can go up and down in a very short period, and in Ottawa it just doesn't happen."
USA
Mortgage rates increase for second week in a row (Washington Post)
"Mortgage rates continued their climb on the heels of strong economic reports, according to the latest data released Thursday by Freddie Mac. After bouncing around the past couple of months, fixed rates increased for the second week in a row."
Overseas Money Pours Into Miami Real Estate (Wall Street Journal)
"Cranes are again rising over this city, as the poster child for the real-estate collapse enjoys a new condominium boom fueled by foreign investors looking to park their money in U.S. real estate."
Wayne Gretzky Selling L.A. Town Home (Forbes)
"For Gretzky, the real estate consolidation comes as the NHL board of governors finally agreed to pay Gretzky the $7-to-$8 million he was owed for back salary associated with his coaching duties with the Phoenix Coyotes. Gretzky, considered one of the greatest hockey players ever and The Greatest face of the NHL, was brought in to the Coyotes in 2005, and left in 2009 when the franchise suffered economic collapse."
International
Optimism Over Vietnam Property, With Caveats (New York Times)
"Vietnam's beleaguered property market is bottoming out just as macroeconomic indicators stabilize and the ruling Communist Party makes new pledges to reform a struggling and corruption-riddled banking sector, say developers and businessmen here, the country's commercial capital."
Economist Nouriel Roubini picks NZ housing bubble (New Zealand Herald)
"Nouriel Roubini, the American economist and financial expert dubbed Dr Doom - who predicted last decade's global meltdown - has picked New Zealand as having one of the world's most precarious housing markets."
Realosophy Realty Inc. Brokerage is an innovative residential real estate brokerage in Toronto. A leader in real estate analytics and pro-consumer advice, Realosophy helps clients buy or sell a home the right way. Email Realosophy
Share This Article