Realosophy Team in Media Roundup, Toronto Real Estate News
All you need to know regarding the housing market in Toronto, Canada and abroad.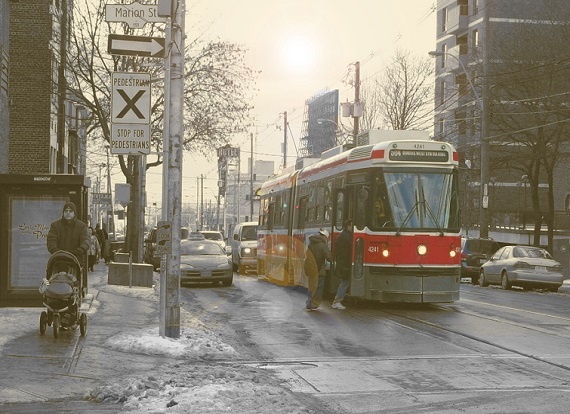 Photo credit: Trek Earth

This week in Toronto: The Ice Storm didn't freeze Toronto real estate, a battle to work out with Madonna and disaster proofing your home.
Elsewhere: Pessimism abounds for Canada's housing market in 2014, the American housing market continues to be a drain on the economy and building optimism for India's cluttered property market. That's a lot of markets.
Toronto
Think the Ice Storm froze Toronto real estate? No way (The Globe and Mail)
"Ms. DeClute cancelled the open house scheduled for the weekend the ice blasted Toronto, but 32 groups of buyers still made appointments for showings, which they held during daylight hours, she says."
In Toronto Condo War, a New Perk: Workout With Madonna (Bloomberg)
"Madonna, whose 2012 tour was the top-grossing act of the year worldwide with $296.1 million in revenue, will lead an "Addicted to Sweat" dance class next month at her Hard Candy Fitness studio inside Aura, a new 78-story condo tower in Toronto."
Steal This Idea: Disaster-proofing done locally (The Grid)
"Extreme weather and natural disasters have wreaked havoc in communities, levelling homes and destroying neighbourhoods. To mitigate damage in future events, the recent Designing Recovery Competition staged by the American Institute of Architects challenged firms to design a disaster-resistant, environmentally responsible, and affordable single-family home for one of three recently hard-hit locales."
Toronto rejects proposal to tear down Hotel Waverly and Silver Dollar Room for student housing (Toronto Star)
"It's our only avenue of aspiring to get what we want to get," said Paul Wynn, who came up with the idea to build privatized student housing near the U of T after his two daughters had trouble finding accommodation near McGill University in Montreal."
Canada
Canada Real Estate Market Ends 2013 in Soft Landing Mode (Bloomberg)
"Bankers and policy makers continue to warn against complacency. Toronto-Dominion Bank CEO Ed Clark said at a conference yesterday that bankers should remain wary of the housing market. "I don't think it's going to collapse, but I do think that if you run a bank, you should be worried," said Clark, 66. "It's something we should watch."
Canadian house prices buoyed in 2013 by rebound of Toronto, Vancouver markets (The Star)
"The unexpectedly strong rebound of both Toronto's and Vancouver's housing markets in 2013 helped push up overall Canadian house prices by about 3.8 per cent, according to Teranet-National Bank."
Canada's house prices still rising but sales stall for third straight month (Financial Post)
"There is cause for concern in the market. Seasonally adjusted December sales were down 1.8% from November and are now off 5.2% from the peak that was reached in September. Historically, price declines have followed sales declines."
Canada's Skidding (The Wall Street Journal)
"Canadian house prices are very clearly bubbly. By one estimate Canada's house price to rent ratio–an important metric–is the furthest from historic trends than any country in the world right now. Various estimates have Canadian house prices at between a third and two-thirds over-valued."
USA
The housing market is still a drag on the economy--but why? (LA Times)
"Housing has stood out as the sick man of the U.S. economy in bad times and better times. For all its work on economic stimulus in various forms, the Obama administration has never been able to get its hands around a solution for the housing crash. That's not unprecedented--the New Deal never came up with a lasting solution for the housing crisis of the '30s, either. Housing is tough."
Fannie Mae warns of fall in US house prices (Financial Times)
"We had this vision in our head of a 30-year-old junior banker, driving a Range Rover from house to house, trying to collect rent," Doug Duncan, chief economist of the government-owned mortgage financier, said at a private industry conference last week. "We didn't necessarily see that as a sustainable [business] model."
This One Chart Shows Why We Shouldn't Fear Another Real Estate Meltdown (Time)
"This is not to say that homes in some markets aren't overvalued. Each market is different, but until the loan-to-value ratio of real estate in this country starts to creep back up towards pre-crisis levels, we're likely not in danger of suffering from a real-estate instigated financial crisis like we saw five years ago."
Not waving but drowning (The Economist)
"Nearly 11m American homes are similarly "underwater". Despite the housing recovery, parts of the country are still struggling: 3m-4m people are in default, in foreclosure or awaiting liquidation. According to New Jersey Community United, a lobby group, nearly one in four homes in the state is worth less than the mortgage."
International
Falling demand and prices force Hong Kong, Singapore developers abroad (South China Morning Post)
"Developers in Hong Kong and Singapore, cities that last year implemented some of their most restrictive curbs to rein in home prices, are shifting their focus to mainland China, the United States and Britain as demand is stifled at home."
Building optimism for India's property market in the new year (The National)

"The Indian real estate story continues to be tremendously attractive," says Mr Baijal. "While, there is a sort of saturation in the Tier I cities, the good news is that Tier II cities have started growing with the IT and industrial sectors investing in such places."
House price expectations hit 14-year high in December (Reuters)
"Expectations of future rises in British house prices strengthened again last month, driven by a shortage of new homes on the market, a survey showed on Thursday, although its headline price measure slipped."
Realosophy Realty Inc. Brokerage is an innovative residential real estate brokerage in Toronto. A leader in real estate analytics and pro-consumer advice, Realosophy helps clients buy or sell a home the right way. Email Realosophy
Share This Article