Realosophy Team in Media Roundup, Toronto Real Estate News
All you need to know regarding the housing market in Toronto, Canada and abroad.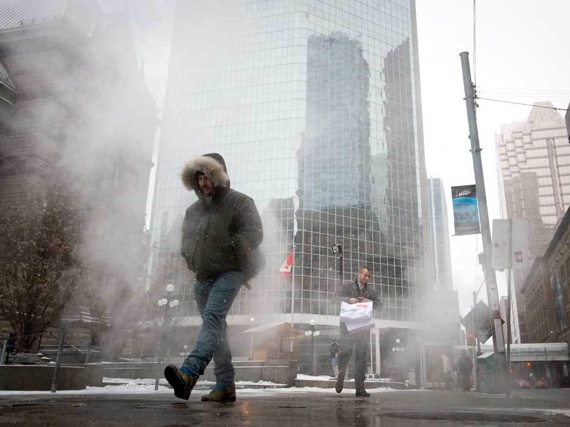 Photo credit: National Post
This week in Toronto: A grocery behemoth is coming to Kensington Market, will auctions end the Wild Wild West market in Toronto, and plans are underway for a massive development at Front and Spadina.
Elsewhere: Luxury homes continue to be scooped up across Canada, Canadians spent more on housing than ever before in 2012, and a housing boom in the Philippines begins to slow down.
Toronto
Loblaws Is Coming to Kensington Market (Torontoist)
"Steve Deveaux, Tribute's vice president of land development, suggests that the store will not become a looming corporate presence: "It's not a big-box store like some people will attempt to categorize it," he said. "It's more of a community grocery store."
Are auctions the answer for Toronto's hot house market? (Toronto Star)
"It's tight right now. We have slim, slim product to offer buyers out there," says one Toronto realtor who's also seeing more agents doing "exclusive" listings they just show their own clients that never hit the MLS home marketing system."
Massive development planned for Front and Spadina (Blog TO)
"The trio of developers - RioCan, Allied Properties, and Diamond Corp. - are touting The Well as Toronto's first "meaningful mix of residential, retail, and office space," and there's certainly plenty of all three on paper. More than half of the interior space will be non-residential."
Tycoon shows his real estate savvy with sale of Hudson's Bay store (The Globe and Mail)
"The company said it plans a multilevel Saks store that will be shared with the current Hudson's Bay. The Bay will occupy most of the space but the stores will have separate entrances. Proceeds of the transaction will be used to reduce the company's debt and invest in growth initiatives, it said."
Canada
"The report notes, however, that the actually number of upscale properties sold is likely significantly higher, given that a good percentage of high-end sales are new construction and not reported on the national multiple listing service."

Canadians spent more on housing, health care in 2012 (The Globe)
"Spending on shelter – a category which includes rent, mortgage payments and repairs – climbed 4 per cent to $15,811 in 2012, with people in British Columbia spending the highest share on a roof over their heads. Homeowners spent 27.1 per cent of their share on shelter while renters spent 31.3 per cent."
The Housing First Model -- cure to homelessness in Canada? (Rabble)
"Between 1980 and 2005, average earnings among the least wealthy Canadians fell by 20 per cent. Increased poverty coupled with increasing housing costs creates a fertile environment for homelessness."
Unique project helps stateless Tibetans find homes in Canada (CTV)
"Now, through a unique agreement with the Canadian government, she is one of almost 1,000 displaced Tibetans who are expected to resettle in Canada before the spring of 2016. Ten more are scheduled to arrive in Toronto on Saturday."
USA
Eagle Rock Named Second Hottest Real Estate Neighborhood In US (Loz Feliz Ledger)
"The Los Angeles community was named the second hottest neighborhood for real estate in United States for 2014, according to a report released in January by the Redfin Research Center, an online real estate research reporting agency."
Can snowbirds still find a property deal in the U.S.? (The Globe)
"When it comes to Canadian retirement fantasies, winters spent basking in the sunshine ranks at the top of the wish list. Add a polar vortex to the mix, and the idea of becoming a snowbird is becoming more appealing to Canada's 55+ crowd."
Of Course the Condo Has a Gym, but What About a Personal Shopper? (New York Times)
"With wealthy families increasingly choosing to stay in the city, rather than decamp to the suburbs, children's playrooms have taken on new significance. In TriBeCa, for example, Taconic Investment Partners asked the 92nd Street Y, whose nursery school has among the city's most competitive admissions, to design the playroom for its new development on Laight Street, where apartments average $2,700 per square foot."
"That might sound a lot like the activities that at one point set off a global financial crisis. But there is a twist this time. Investment bankers and lawyers are now lining up to finance investors, from big private equity firms to plumbers and dentists moonlighting as landlords, who are buying up foreclosed houses and renting them out."
International
House Hunting in ... Austria (NYT)
"Most of Austria's foreign buyers come from other European Union countries, especially Germany, according to Ms. Muhr. Mr. Holzapfel says there are also a significant number of buyers from Turkey and Russia."
Two-year construction boom in Philippines shows signs of slowing (Financial Times)
"Mr Siongson is not alone. With a housing shortfall expected to rise to 5.8m homes by 2016, from 3.6m in 2010, according to government estimates, overcrowding is common. But thanks to record low interest rates and lower downpayment requirements, thousands have for the first time found themselves able to afford their own homes."
The Emerging Markets Illness Spreads (Wall Street Journal)
"Many of these same economies have experienced considerable housing bubbles. Rising market rates and slowing economies will prove to be very bad combinations–especially if central banks in these economies have their hands tied by inflationary pressures being stoked by falling currencies."
Realosophy Realty Inc. Brokerage is an innovative residential real estate brokerage in Toronto. A leader in real estate analytics and pro-consumer advice, Realosophy helps clients buy or sell a home the right way. Email Realosophy
Share This Article