Realosophy Team in Media Roundup, Toronto Real Estate News
All you need to know regarding the housing market in Toronto, Canada and abroad.
This week in Toronto: Toronto's embattled Mayor defends Toronto's embattled housing boss, surging house prices are scaring a big bank, and why downsizing to a condo isn't for everyone.
Elsewhere: A new law could make it harder for immigrants to find their way in Canada, the Canadian dollar takes a tumble, and one investment expert claims Australia's housing bubble is about to burst.
This Week From Realosophy.com
A perfect detached starter home nestled in Woodbine Heights.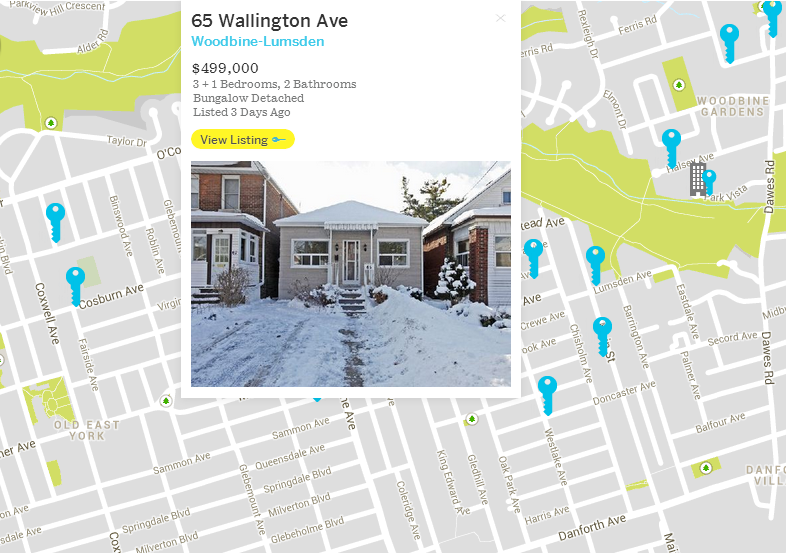 Photo Credit: Realosophy.com
Toronto
Rob Ford defends Toronto housing boss ordered to get leadership training: 'None of us are perfect' (National Post)
"I think it's a waste of money. I think taking away his bonus is being penalized enough," said Mr. Ford, who says tax dollars should go to fixing housing stock. "He's a good man. Is he perfect? No, none of us are perfect. We've all made mistakes," he said. "Like in sport, in anything else, if you take a penalty, you spend two minutes in the penalty box. That doesn't mean you're kicked off the team."
Surging Toronto home prices pose big economic risk in 2 to 3 years: BMO (Globe and Mail)
'In an economic forecast for North America released today, the bank noted three "risks," including those from newly embattled emerging markets, the continuing tussle over the U.S. government debt ceiling and, on the domestic front, residential real estate in Canada's biggest city.'
Living in Retirement: I'm sorry I ever downsized to a condo (The Globe)
'The value of the condo hasn't risen in two years. More than 60 per cent of the building is occupied by renters, who by nature, do not have a vested interested in maintaining the integrity of the building. Why should they? Repairs take months and usually after repeated nagging. Some days, it's difficult to enjoy a long hot shower since the water runs cool. The condo fees have risen twice, once before I moved in and once after.'
Toronto condo and townhouse construction defies national decline (Toronto Star)
'While national housing starts averaged 194,700 on an annualized basis in the fourth quarter of 2013, they sank by about 7.5 per cent in the first quarter of this year to a projected 180,200 starts for 2014, below expectations of about 185,000 starts, notes Scotiabank.'
The Colorful Homes of Little Portugal in Toronto (Toronto Livings)
'At first glance, Little Portugal may not seem very different from the other communities near by. Boarded by a portion of College and Dundas St. West to the North, Dovercourt to the East, and the CNR Railway Tracks to the West - it's typical to find narrow lots with Victorian styled homes in both detached and semi-detached styles. Many of the homes were built around the early 1900′s and as such, contain much of the character and charm one would expect of a home constructed during this time… but somewhere a long the line, the residents decided it was time for a change – and a splash of colour.'
Dog owners prodding condo developers to accommodate pets' needs (The Globe)
'For more than a year, the building's dog owners have been waiting for that pet spa. "A lot of people bought into the building because they thought 'oh great, there's going to be a dog wash'," said Davelle Morrison, president of the building's condo board. "People want the dog wash."
Canada
Condo correction not in the cards for Toronto, Vancouver, says new report (The Province)
"Canadian real estate bears are patient. For more than half a decade they have been waiting for the inevitable crash in the Canadian housing market, only to be disappointed by a defying market," said Benjamin Tal, deputy chief economist of CIBC, in the report. "The market will be tested by higher interest rates. But as things stand now, those bears will have to continue to wait as interest rates are likely to remain low well into 2015."
Investor road to Canada hits a dead end with immigrant program's closing (The Globe)
"The process of applying to immigrate to Canada has been a struggle for my family and my business," he said, asking to be identified only as Mr. Lu to keep his relatives and his company out of the public eye. "I think it is a good decision to cancel the program. It is so painful for applicants to wait for the result. Instead, Canada should have a more efficient program to attract investor-immigrants."
Canada home sales fell 3.3% in January, CREA says (Financial Post)
'The report adds to recent data showing real estate has ceased to drive Canadian economic growth. Canada Mortgage & Housing Corp. reported Feb. 10 work on new home construction fell to the lowest in 12 months. The Bank of Canada forecast last month housing won't add to output in 2014.'
Canadian dollar falls as housing starts slow (CBC)
'The agency estimated there were 11,737 actual housing starts in January and that is extrapolated to a seasonally adjusted annual rate of 180,248, down from 187,144 in December.'
USA
Foreclosures Spiking in Some States, After Years of Judicial Delays (The Street)
'Florida had the most foreclosure filings, with 25,996 in January, which was down 13% from a year earlier. Next was California, with 14,834 filings, down 18% from January 2013. Illinois ranked third, with 8,781 foreclosure filings during January, declining 38% from January 2013.'
When Age Belies Buying Power (New York Times)
"They have a completely different DNA from the rest of us," said Robert Dankner, the president of Prime Manhattan Residential, a brokerage that represents young tech millionaires. "They like to stay under the radar, and the time and energy others spend to conform, these people spend forging their own path. What is important to them is to have something that is not like what everyone else has."
'These days, I write my own checks," he adds, and he knows where every dollar goes. The father of two has a Manhattan apartment, a home in Florida and another near Cleveland, Ohio, where his two children live and where he also owns a trucking company with a fleet of 18-wheelers, Mo Vaughn Transport.'
International
Australia's housing bubble ready to burst, US investment guru claims (The Guardian)
"I don't see an upside in Australian real estate but there is a lot of downside. If you are going to own a house and live in it forever then perhaps it's OK to buy a house, but speculative property – don't do it."
Can Singapore safely deflate its housing market? (Money Control)
"This week, Singapore indicated the specter of forced selling remains a serious concern, with the central bank, the Monetary Authority of Singapore (MAS), relaxing one of its cooling measures, the Total Debt Servicing Ratio, or TDSR. The measure aimed to ensure that buyers` monthly payments do not exceed 60 percent of their income, so they wouldn`t be caught out by a spike in interest rates. Most mortgages in Singapore have adjustable, rather than fixed, rates."
Realosophy Realty Inc. Brokerage is an innovative residential real estate brokerage in Toronto. A leader in real estate analytics and pro-consumer advice, Realosophy helps clients buy or sell a home the right way. Email Realosophy
Share This Article