Realosophy Team in Media Roundup, Toronto Real Estate News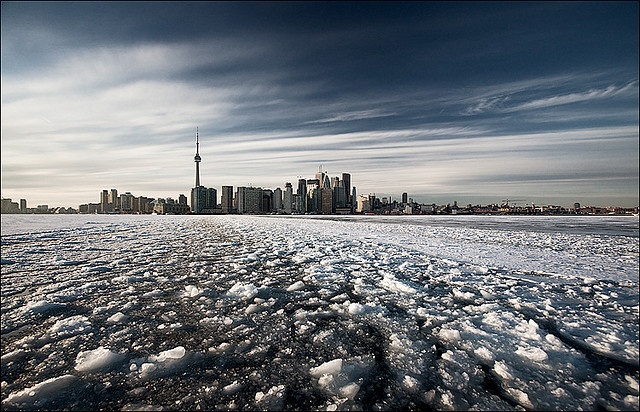 Photo Courtesy: flikr.com
All you need to know regarding the housing market in Toronto, Canada and abroad.
This week in Toronto: The market is hungry but houses are in short supply, degrading condo windows trigger wave of replacements and the surge in Toronto's housing prices is starting to alarm economists.
Elsewhere: A lake in Edmonton could be yours for $500,000, how bad is the U.S housing market and England enjoys a boom it hasn't seen in seven years.
Toronto
The Toronto market is hungry, but houses are in short supply (The Globe and Mail)
Mr. Jelinek says the Polar Vortex effect during January likely didn't have a big impact on the market. He's had to cancel a few showings during blizzards but the bigger problem is that the sellers just weren't listing. "Where am I going to move to?" is the common lament among those who already own houses, he says.
Have you noticed it's getting really crowded downtown? So why is Adam Vaughan pushing for more? (The Grid)
Since 2008, more than 40 per cent of the city's proposed new residential units have been in the downtown-waterfront, and Vaughan represents about half of that area. Roughly one-fifth of Toronto's population growth between 2001 and 2011 was in his ward.
Degrading condo windows expected to trigger major wave of replacements (Toronto Star)
New listings remained down about 6.1 per cent as of mid February, year over year. But that's a significant improvement from the 16.6 per cent decline in new listings in January which was blamed, along with the unrelenting polar vortex, for a 2.2 per cent drop in sales across the GTA.
Toronto's Huge House Price Spikes Starting To Alarm Economists (Huffington Post)
Less than two years after Finance Minister Jim Flaherty implemented yet another round of mortgage rul tightening to cool off an overheating housing market, some of those markets are back to their unsustainable ways.
Canada
Canada's Housing Market Suffers Chill in January (Wall Street Journal)
Many parts of Canada were hit by the so-called "polar vortex" which sent temperatures plummeting and kept house hunters indoors. About 60% of the country saw a decline in sales, notably in Toronto, Vancouver and a number of other southern Ontario cities.
Don't bank on housing bubble bursting (Calgary Herald)
The truth is, the housing sector in Vancouver is not like other markets. That's because, to a degree, it relies on the unpredictable - personal inclinations of a growing number of retiring baby boomers; pollution levels in China; the whims of ice stormweary Canadians yearning to ditch their snow shovels.
In Canada's housing market here's what $500 K buys: A lake in Edmonton … a condo in Toronto (Financial Post)
But it's hard to compare how far your buck will go in Canadian cities using that figure, since the average prices at year's end are so very different: $785,574 in Vancouver and $320,693 in Montreal, for instance. So we've found a round figure in the middle and asked, what could approximately $500,000 have bought homebuyers in various markets across the country?
USA
How Bad Is The Housing Market? A Forecast Update for 2014-2015 (Forbes)
Homebuilders are not so happy anymore, according to their national trade association. After eight months with a majority of builders feeling positive, the pessimists have started to gain ground. (In addition to the attitude survey shown in the chart, January housing starts fell due to the bad weather.) Does this mean a bust for homebuilding and home prices in 2014?
Fed's Lockhart Say U.S. Housing Market Outlook Remains Bright (Bloomberg)
"I can still remain not effusively bullish on housing but believing there is still momentum in the housing sector, and we will have a decent picture when we look back at the end of the year," Lockhart told reporters after a speech in Macon, Georgia. "The conditions for purchasing a home remain good" and there is "pent-up demand" among young people to form households, he said.
International
House Hunting ... Outside Paris (New York Times)
"The 'wealthy French' and foreigners are less tempted to invest in Paris real estate at this level, taking into account the new taxes put in place by the new government," Mr. Tzipine said by email.
Swiss Housing Market Bubble Looms Closer, UBS Says (Bloomberg)
Concerned Switzerland could fall victim to a real estate crisis similar to that of the 1990s, the government last year forced banks to build up a countercyclical buffer of 1 percent of mortgage-related assets. After that failed to prevent a further deterioration of the mortgage market, it last month doubled the requirement to 2 percent. Even so, it refrained from raising it to the maximum 2.5 percent. Banks have until June 30 to comply.
English housing starts at highest level since 2007 (Reuters)
Construction started on more new homes in England last year than at any point since 2007, government data showed on Thursday, suggesting rising house prices and incentives to promote home-building are having some impact on supply.
Realosophy Realty Inc. Brokerage is an innovative residential real estate brokerage in Toronto. A leader in real estate analytics and pro-consumer advice, Realosophy helps clients buy or sell a home the right way. Email Realosophy
Share This Article