Realosophy Team in Media Roundup, Toronto Real Estate News
All you need to know regarding the housing market in Toronto, Canada and abroad.
This week in Toronto: Is laneway housing set to hit Toronto, a shortage of listings plagues the housing market and the city's best elementary schools are close in proximity.
Elsewhere: What it will take for a housing crash in Canada, don't blame the tech industry for high prices in the United States and Dubai re-emerges as the go-to real estate market in the Middle East.
This Week From Realosophy.com
A beautifully maintained home in a highly sought-after Toronto community.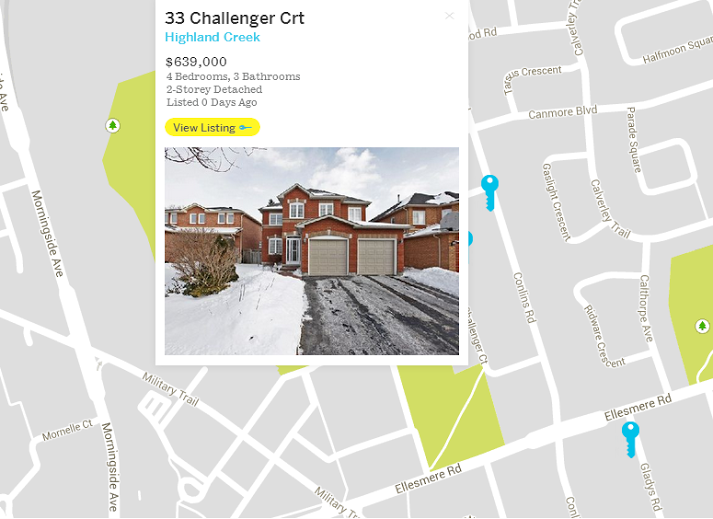 Photo Credit: Realosophy.com
Toronto
Can this condo jumpstart laneway housing in Toronto? (Blog TO)
"Tucked away off a quiet residential street, the property in question is currently occupied by a low-rise former boiler factory that the developers plan to extensively renovate. A separate block would be built at the expense of an existing home on the main portion of Bartlett Ave., giving the overall building a distinct "L" shape."
Rough ride for an outspoken Toronto condo critic (The Globe and Mail)
"Mr. Fleming, of Bosley Real Estate Ltd., writes the Toronto Realty Blog and he has a lot of readers among avid followers of the real estate scene. Over the past week, residents, readers and real estate agents have bombarded him with praise or vitriol after he wrote that the building's finances make getting mortgage insurance a major problem."
GTA home sales fall, prices surge; weather, shortage of listings blamed (Toronto Star)
"The shortage of new listings is being blamed for a 2.2-per-cent decline in home sales across the GTA in January and a more than 9-per-cent surge in prices, year over year, according to figures released by the Toronto Real Estate Board on Wednesday."
Toronto's best elementary schools are pretty much all in one place (Toronto Life)
"The neighbourhoods surrounding this nexus of childhood education aren't particularly expensive to buy into, at least by Toronto standards. The latest Toronto Real Estate Board data puts the average home price in Hillcrest Village at $541,194, while nearby Pleasant View comes in at $459,740. A family with young kids could find a bargain."
"But some economists say rising prices have pushed affordability in Canada's housing market toward the breaking point, and that an increase in interest rates from current rock-bottom levels would erode affordability even further."
Competition case against Toronto realtors not over yet (The Star)
"The Toronto Real Estate Board issued a statement Tuesday saying it will "continue to work to protect the personal information entrusted to it and its members by the general public" in the face of persistent efforts by the Commissioner of Competition to "erode" those safeguards by further opening up the MLS system."
Canada
What it would take for Canada's housing market to crash, and why Pimco says it won't
(The Globe)
"Unemployment would have to spike. While the jobless rate isn't projected to decline – rather, it's expected to hover around the 7-per-cent mark – it's not forecast to surge either. "Given this macroeconomic environment, it is also unlikely that the unemployment rate will spike to 8 per cent to 10 per cent (which, we estimate, would be needed to cause a disorderly housing correction)."
CMHC: Canadian housing starts and prices to stabilize in 2014 as demand slows (Financial Post)
"The CMHC said on Thursday housing starts will be in a range of 176,600 and 199,800 in 2014, with a point forecast, or most likely outcome, of 187,300 units, relatively unchanged from 187,923 units in 2013. That is up slightly from CMHC's October estimate of 184,700 starts."

Canada housing market overvalued by 10 per cent: TD (Yahoo Canada Blog)
"The price-to-income ratio shows the market is overvalued by 30 per cent, but she argues that depends on the definition of income, which often falls short. In fact, she argues if government transfers and investment income were included in the mix, the housing market would only be 8 per cent overvalued."
"Looking forward, it is possible that strong price growth, and therefore an increase in home equity, will act as a trigger for more households to list their homes for sale."
USA
Don't blame tech industry for tech hubs' high home prices (CNBC)
"So the tech industry didn't push prices higher. It was drawn to places that were already expensive. This may have been because these areas had major research universities, technically skilled workers, computer manufacturing industries or nice climates. Kolko points out that the year-over-year increase in home prices in tech hubs is actually in line with, not ahead of, the national trend; that is, after one accounts for the local severity of the housing bust."
NYU Student Needs an Apartment, for Living In, and the Times Is On It (Gawker)
"This week, the section's apartment-hunting column, "The Hunt," stretches its definition of "hunt" to include Vanessa Csordas-Jenkins, a New York University junior who seeks "an advanced degree in quiet," or a pricey studio in a "1900 neo-Renaissance-style co-op with a beautiful marble lobby and a virtual doorman" near Union Square. Whichever!"
A Detailed Map of the Net Migration Flows for Every U.S. County (The Atlantic)
"In a given year, about 6 percent of the U.S. population picks up and changes counties. Young families move from Chicago to the surrounding suburbs. Recent college graduates cross the country for a first job in Boston, or Washington, D.C. Retirees relocate for good down to the Sunbelt."
International
Dubai Back To Being Muslim Capital Of Real Estate (Forbes)
"Not too long ago, Dubai was a buyer's market. But now, the city has transformed into a seller's market once more. Higher rental prices are forcing tenants into less luxurious housing. And while this shift into a more middle-class existence might be hard to stomach for the expats who like the nearly four-to-one exchange rate, Dubai now has a deeper property market. It's not all about the Palm Jumeirah anymore."
Realosophy Realty Inc. Brokerage is an innovative residential real estate brokerage in Toronto. A leader in real estate analytics and pro-consumer advice, Realosophy helps clients buy or sell a home the right way. Email Realosophy
Share This Article