Realosophy Team in Media Roundup, Toronto Real Estate News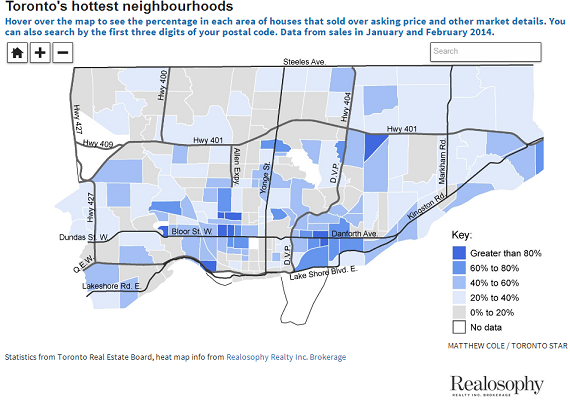 All you need to know regarding the housing market in Toronto, Canada and abroad.
This week in Toronto: Realosophy crunches the numbers in a Toronto Star feature, it's every man for himself in real estate bidding wars, and the east end is being gentrified by a band of savvy locals.
Elsewhere: What's next now that Jim Flaherty has retired, the housing market in Las Vegas isn't stable and North Korea is Asia's hottest property market...really.
Toronto
Housing war heats up in east end Toronto (Toronto Star)
"These bidding wars are really changing the price point of neighbourhoods fundamentally — permanently," says Leslieville realtor John Pasalis. He's seen the most heated activity in the east end of the city, even into some more suburban-like Scarborough neighbourhoods.
Real estate bidding wars: It's every man for himself (Financial Post)
With the increased competition, Ms. Lelli says people could face a number of rounds of bidding which means you may have a few chances to increase your original offer. But with BMO research saying that one in three Canadians are willing to enter into a bidding war and a third of first-time home buyers will break their budgets for the right home, people need to be careful not to get too emotional.
No housing bubble to burst, Conference Board says in major survey (The Star)
Canada
Is Canada's mortgage market safer because of Jim Flaherty? (The Globe and Mail)
But real estate, if not at a gallop, is still very much trotting. Many of us in the mortgage industry thought Mr. Flaherty's moves would derail housing and trigger significant job losses, but most of his policies have since proven prescient and sound.
More self-employed hitting mortgage wall because of recent rule changes (The Globe)
These days, because of rules brought in almost two years ago by the regulator of the country's chartered banks, borrowing money to buy a home has become harder for many of the country's 2.75 million self-employed workers – a group that, according to Statistics Canada, has a higher median net worth than paid employees.
USA
Las Vegas housing market least stable in U.S. (Las Vegas Review-Journal)
Las Vegas came in dead last in a study that measures the strength of U.S. housing markets. Freddie Mac's Multi-Indicator Market Index, released Wednesday, measures the stability of states and the U.S. capital, as well as the top 50 metropolitan areas. It weighs criteria including mortgage applications, income ratios and employment.
Southland housing markets most "bubble"-y in U.S. (LA Times)
Kolko is not yet worried about a national housing bubble such as the one that tanked the economy in 2008. In most places, home prices are still in line with economic fundamentals. He found only 19 markets, of the 100 biggest metro areas, where housing is overvalued, compared to early 2008 when it was overvalued everywhere.
Looking to buy? Best cities for first-time home buyers (CNBC)
Interestingly, Phoenix also made the top 10. Phoenix was one of the hardest hit housing markets during the crash, with prices literally falling by more than half from peak to trough. Investors targeted the market early, buying thousands of distressed properties at deep discounts and driving prices up by double-digits very quickly. Still, Berkowitz said it's a great place for first-time buyers now.
Will the American Dream still include homeownership? (MSN)
Even after a devastating housing and mortgage crash that resulted in millions of foreclosed homes and trillions of dollars of home equity lost, the majority of Americans have not given up the idea that ownership is representative of their economic dream.
International
30 years of London and UK-wide house prices examined (Metro)
Over the last 30 years we've seen the average UK house price rise from under £50,000 to over £250,000, with a point just a few years ago when the average property went for over £300,000 (before the much-publicised collapse of the housing market in 2007).
Australia dismisses foreign housing market fear (Newstalk ZB)
Realosophy Realty Inc. Brokerage is an innovative residential real estate brokerage in Toronto. A leader in real estate analytics and pro-consumer advice, Realosophy helps clients buy or sell a home the right way. Email Realosophy
Share This Article