Realosophy Team in Realosophy News
Realosophy is proud sponsor of Conscious Consumption, a new series of pop-up talks hosted by our co-founder Urmi Desai around Toronto in collaboration with the Textile Museum of Canada. It's been an amazing month visiting Toronto's most innovative makers: St.John's Bakery, Sydney's, EWANIKA with A Peace Treaty, Sloane Fine Tea Merchants with Laura Slack Chocolates and ca va de soi.
We feel a kinship with these makers (and spend our dollars there) because these passionate people love what they do and think a lot about how to do it well. They accept that a lot of things in their industries are not right - for consumers or society - and work hard to provide a better way.
Join the Realosophy at the final event of the series, tomorrow Thurs May 1st 7pm > a Salon Talk featuring top Toronto makers and thinkers on where things are made, how they are made and why it matters. Enjoy a glass of wine & feel the energy of a city up to great things.
Tickets ($20) and more info here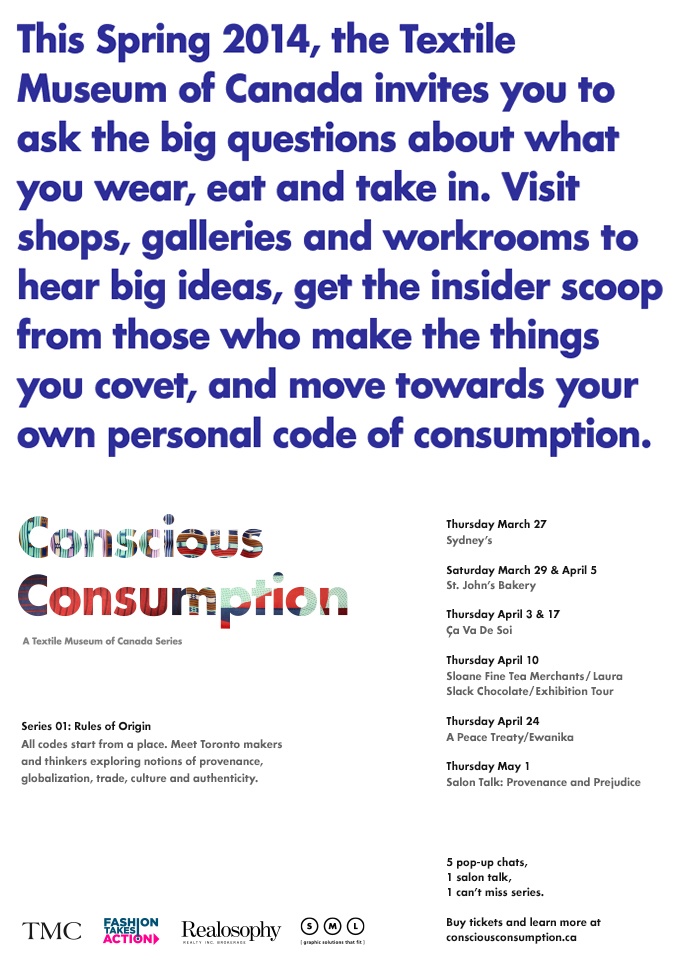 Realosophy Realty Inc. Brokerage is an innovative residential real estate brokerage in Toronto. A leader in real estate analytics and pro-consumer advice, Realosophy helps clients buy or sell a home the right way. Email Realosophy
Share This Article