Realosophy Team in Media Roundup, Toronto Real Estate News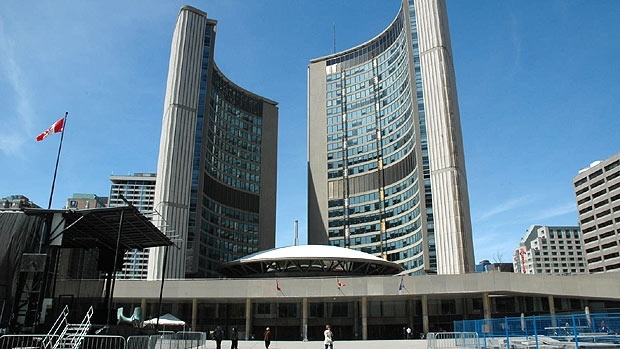 Photo credit: CBC

All you need to know regarding the housing market in Toronto, Canada and abroad.
This week in Toronto: Picking the perfect condo in T.O, but be careful, they keep getting smaller. Real esate wars continue to heat up and another scandal plagues Toronto Community Housing.
Elsewhere: First time buyers are finding it hard to buy in Canada, how much is an average home across the country and the bizarre reality hitting the American housing market.

Toronto
The choosy homebuyer's guide to choosing a condo (The Grid)
The lives of real Torontonians, however, lie somewhere between analysis and anecdotes. For you, we offer this guide as a barometer in deciding if your time is now. Take heart: The experts we've consulted say that condos can make for both a satisfying home and a decent nest egg, so long as you keep the stars out of your eyes.
Survey says: Add a few more dollars to your house hunt budget (The Globe and Mail)
A housing market tilted heavily in favour of sellers pushed Toronto real estate prices up sharply in the opening months of 2014, but, so far in April, buyers appear to be gaining clout, says John Pasalis, president of Realosophy Realty Inc.
The new way Toronto condo developers are saving space (The Globe)
RealNet Canada Inc. released its latest stats for new condos in Toronto last week, and the numbers showed that the average size of a unit has shrunk to about 797 square feet, from closer to 900 square feet five years ago.
Real estate bidding wars heating up in Toronto (CBC)
Laird says that the primary factor driving demand and fuelling the red-hot housing market is that an increasing number of potential buyers are able to qualify for large mortgages at bottom-barrel rates, and banks are "competing very aggressively for those buyers."
Where the TCHC Scandal Goes From Here (Torontoist)
The report presents a damning indictment of the social housing agency's hiring and firing practices, details arbitrary raises given to certain executives, and holds higher-ups responsible for an "abject failure of leadership" that fostered a "climate of fear" in the workplace. It finds that CEO Gene Jones made impulsive and arbitrary decisions contrary to established HR policies and procedures—policies and procedures with which he admitted he was not familiar.
Canada
Canadian real estate and housing boom may be ending, Scotiabank warns (The Star)
"Canada's long housing cycle is turning. Residential investment stalled last year as affordability constraints tempered home sales, and builders scaled back the number of new developments," notes the report by Scotiabank economist Adrienne Warren.
Canadian, U.S. housing markets defy expectations, price gap hits record (The Globe)
The gap between the average price of a home in Canada and the United States widened to a record level in the first quarter of this year, contrary to what economists would have expected, according to Bank of Montreal's chief economist Doug Porter.
Housing market 'extremely discouraging' for first-time buyers (CBC)
"I've been searching for almost a year, and I think it's extremely discouraging for a first-time homebuyer, particularly if they are looking for something other than a 500-square-foot condo," Wiseberg said.
'Housing First' approach may put homeless youth last, report warns (CTV)
"We need to ensure young people have the opportunity to earn a sufficient income to pay the rent, purchase food and have fulfilling lives and/or receive rent supplements if they cannot earn a living wage. We must ensure every young person has the opportunity to go to school and fulfill his or her dreams."
USA
U.S. new home sales hint at prolonged housing weakness (Reuters)
"The weak tone of this report is a bitter pill for those, including ourselves, who have been looking for signs of a spring thaw in the housing recovery," said Millan Mulraine, deputy chief economist at TD Securities in New York.
The bizarre reality of the US housing market: Home sales are tanking, and prices are soaring (QZ)
What's going on? If sales are low, shouldn't prices be declining, not rising? Maybe not. Sales could also be low because there aren't enough houses to buy. JPMorgan Chase economists note that while housing inventory has been drifting higher, it remains pretty low by historical standards, so if demand is rising, that could push prices up.
Politics clouds proposed overhaul of U.S. housing finance system (Chicago Tribune)
"If you want to end the government's monopoly in the housing finance system, which is what both Republicans and Democrats want to do - the environment to get it done is ripe. But there is a limited amount of time to move," said Francis Creighton, the chief lobbyist for the Financial Services Roundtable, which represents the largest U.S. financial firms.
International
Tory council rebels over government's affordable homes concession (The Guardian)
"We are trying to build a city that is sustainable and we are not being allowed to," said David Hopkins, deputy leader of the council. "They are setting up problems not today or next year but in five years time, and there will be a shortage of affordable housing. That will lead to problems in the service sector and public sector because people won't be able to afford to live in Milton Keynes."
Authorities in the city have loosened eligibility requirements for gaining an urban household registration, making it easier for rural migrants to get social benefits if they buy an apartment in the city.
Realosophy Realty Inc. Brokerage is an innovative residential real estate brokerage in Toronto. A leader in real estate analytics and pro-consumer advice, Realosophy helps clients buy or sell a home the right way. Email Realosophy
Share This Article