Realosophy Team in Media Roundup, Toronto Real Estate News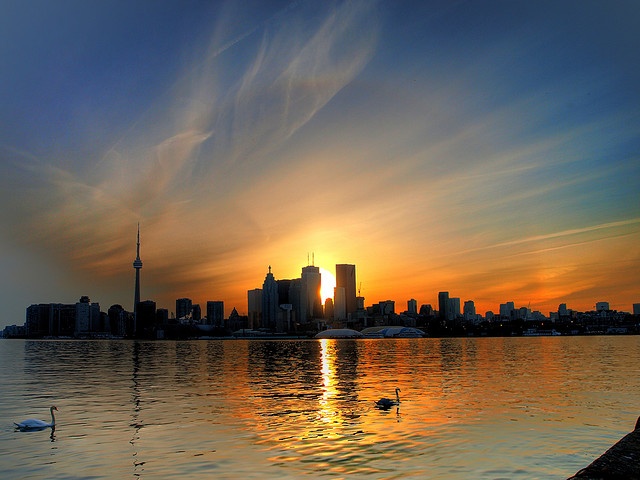 Photo credit: Toronto Pictures
All you need to know regarding the housing market in Toronto, Canada and abroad.
This week in Toronto: The land transfer tax is hurting the real estate market, crazy deals mask a more reasonable market, and a futuristic vision of Toronto's waterfront takes top prize at the Urban Ideas Competition.
Elsewhere: What Google searches tell us about Canada's housing market, the Canada-U.S housing gap hits a record high, and how wood high-rises could save the planet.
This Week From Realosophy.com
A Multi-level Condo-Townhouse in a Charming Beaches Neighbourhood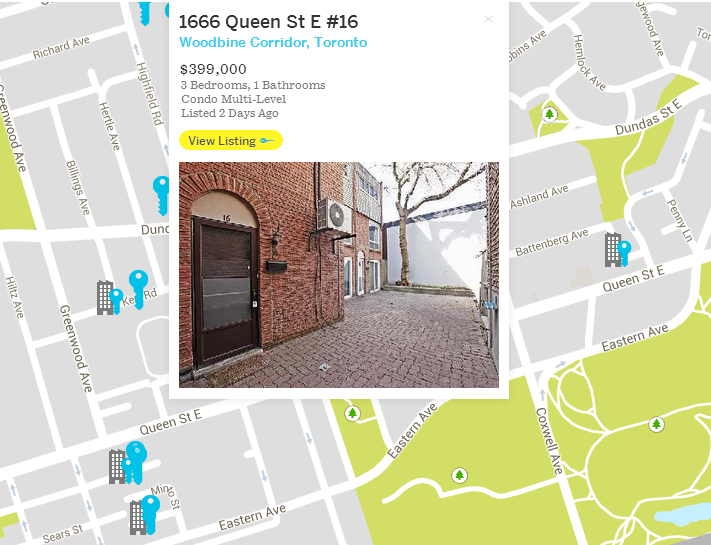 Photo Courtesy: realosophy.com

Toronto
Land transfer tax carries huge costs for Toronto, report says (Toronto Star)
It found that Toronto has seen an estimated decline of more than 38,000 home transactions since the tax was imposed in 2008, making home ownership more expensive and Toronto the only city in Canada where homebuyers are double-taxed: they have to pay both a municipal and a provincial land transfer tax on the purchase of a home.
In Toronto, crazy deals mask a saner underlying market (The Globe and Mail)
The scarcity of listings has thwarted buyers – if what they're looking for is a renovated family home in a walkable downtown neighbourhood near a coveted school. Those are in short supply compared with the number of buyers trying to get their hands on one. But it's important to remember that the majority of properties in the Greater Toronto Area don't attract mobs of bidders.
Can this young Toronto family really afford a house? (The Globe)
It would be unfortunate if Grace and Jim bought just before a price decline, but they shouldn't worry if they can stay put for 10 to 12 years at least. That would be long enough for the market to recover from any setback in the next few years.
Reclaiming Toronto's Waterfront (Torontoist)
Other designs presented fanciful schemes ranging from a TTC gondola service near the Gardiner to a giant Ferris wheel. Thirteen of the submissions are currently displayed in the lobbies of the office towers at the Eaton Centre—half at 1 Dundas Street West, the remainder at 250 Yonge.
TCHC vice president out after ombudsman's report (The Star)
"The Board of Directors and Management of Toronto Community Housing agree that a leadership change in the Human Resources Division serves the best interests of the corporation at this time," an email from the board said.
Canada
What Google searches reveal about Canada's housing market (The Globe)
It looks like the number of times that Canadians search for the term "mortgages" in Google is a decent indicator of what home sales will do. And if that's true, the spring might yet show a spike in the number of homes changing hands, followed by a levelling off.
Canada-U.S. House Price Gap Hits A Record High: BMO (Huffington Post)
For many years, the Canadian and U.S. housing markets tracked each other fairly closely, but that hasn't been the case since the U.S. housing bubble burst in the middle years of the last decade.
The 'responsible' Canadian: Why Stephen Poloz sees no housing crash (The Globe)
"Consumers are showing responsibility; for example, homebuyers who opt to buy less than they qualify for so they don't find themselves overextended if interest rates rise," he added.
Plenty of problems with affordable Saskatoon homes (CBC)
Four years ago, Metro Nilay and his family were excited to move into a brand-new bi-level on Borden Crescent. But Nilay said cracks in the basement floor and walls made it start flooding almost immediately. He says water comes in almost every time it rains.
USA
America's Housing Market Is Broken (Politico)
They say that the best time to fix a leaky roof is when the sun is shining. So now that we are out of the financial storm, this is the time to fix our broken housing finance system. If we don't, we will be no better prepared for the damage that will rain down when the next tempest comes.
A lack of supply means that America's lofty house prices are unlikely to fall far (Economist)
Homebuyers have cause to be nervous: during the crisis of 2008 and 2009 prices fell by 60% in some places. Yet since then America has bounced back remarkably. Median property prices in the north-east are well above previous highs, having risen by 51% between 2009 and 2013.
Is Housing Ringing The Stock Market's Bell Again? (Forbes)
While we await further reports from the housing industry, I suggest investors keep an eye on the major homebuilders. The housing industry is frequently a leading indicator for the economy, and the stocks of the homebuilders are usually a leading indicator for the housing industry.
International
House Hunting in ... Cuernavaca, Mexico (New York Times)
Mexico's housing market, which typically lags that of the United States by a few years, continues to stagnate after the global real estate crisis of 2008, while negative media attention about drug violence has also taken its toll, Ms. Dolch said. In particular, Cuernavaca's luxury sector, which includes homes priced at about $750,000 to $10 million, saw prices fall roughly 20 percent in the mortgage crisis. Highly dependent on the United States economy, that sector continues to flag.
How Wood High-Rises Could Save the Planet (International Business Times)
From England and Sweden to Canada and Australia, a new breed of high-rises has started to pop up on skylines and win praise from architects, developers and environmentalists in the era of climate change.
Why Israel's Boom Is Actually A Bubble Destined To Pop (Forbes)
Israel's entire economy is exposed to the housing and mortgage bubble because banking is one of the country's key industries. Banking and real estate companies account for a combined one-third of the benchmark Tel Aviv-25 stock index's capitalization:
Realosophy Realty Inc. Brokerage is an innovative residential real estate brokerage in Toronto. A leader in real estate analytics and pro-consumer advice, Realosophy helps clients buy or sell a home the right way. Email Realosophy
Share This Article