Realosophy Team in Media Roundup, Toronto Real Estate News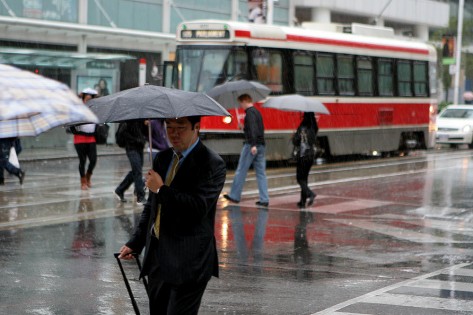 Photo Credit: City News
All you need to know regarding the housing market in Toronto, Canada and abroad.
This week in Toronto: Toronto is the fourth most attractive city in the world, no condos will be built on Ontario Place according to the Liberals and six things you should know about real estate deposits.
Elsewhere: Analysts that predicted a Canadian housing bubble were wrong, the U.S housing crisis was overlooked and the location of the world's most inflated housing prices may suprise you.

Toronto
Toronto 4th 'most attractive' global city: survey (Global News)
The annual survey from Pwc ranked 30 destinations worldwide for several factors including education and technology, quality of life, ease of doing business, health and safety, economic clout, and transport.
No condos will be built on Ontario Place, Liberals' Wynne says (The Globe and Mail)
"We want to make sure that the 'people's place' – Ontario Place – becomes an attraction for tourism, but also for the community. A place to be used by everyone," Ms. Wynne said.
Six things to know about real estate deposits (Toronto Star)
In Ontario, the standard real estate contract gives the buyer two choices; you can pay the deposit immediately when you make an offer, or you can agree to pay it within twenty four hours after the seller accepts it. Most buyers prefer the second option. If you are in a bidding war, you will be encouraged to come up with the deposit immediately, to show good faith to the seller.
Build Toronto sees $2.1-million loss (The Globe)
Build Toronto, created by the city to maximize revenue from the development and sale of surplus land, lost more than $2-million last year, a result that has some councillors saying it's time the city take another look at how it manages its real estate holdings.
Yonge & Wellesley to get slick new 37 storey condo (Blog TO)
From the early renderings, 50 at Wellesley Station is one of the less bland projects that I've seen, with an L-shaped podium that offers visual interest at street level and a seam on the northeast side of the tower that tempers the monotony that so many glass buildings suffer from.
Canada
Mortgage Companies Gain as Bubble Talk Spurned: Corporate Canada (Bloomberg)
"It may be expensive but people seem to be able to afford what they are buying," Home Capital Chief Executive Gerald Soloway said in a May 15 telephone interview. He reiterated the Toronto-based company is targeting 15 percent profit growth in the next year. "The experts that were saying Canada's housing market had to follow the U.S. were wrong, just plain wrong."
Rising real estate prices and low interest rates keep Canadian households upbeat (Financial Post)
"The crux of it is the rates environment," said David Tulk, chief macro strategist at TD Securities. "It's that combined impact of seeing your own asset increase but also realizing that no one is going to take away the punch bowl."
Carney shrugs off worries about Canada's housing market (The Globe)
As he steps up his battle to contain Britain's rapidly growing house prices, Mr. Carney's track record in Canada is coming under more scrutiny. And he's fighting back by suggesting that Canada's problems are peanuts next to those in the U.K.
USA
Housing Crisis Was Overlooked (New York Times)
The collapse in house prices combined with excessive household debt burdens sent the United States economy into a tailspin, resulting in a full-blown banking crisis and the worse U.S. recession in almost 80 years. Failure to more adequately address the housing crisis was the biggest policy mistake made by the Department of Treasury under Secretary Timothy Geithner's leadership.
The most sought-after homes still underwater (CNBC)
"It's hard to overstate just how much of a drag on the housing market negative equity really is, especially at the lower end of the market, which represents those homes typically most affordable for first-time buyers."
Multi-Family Real Estate Forecast: 2014-2020 (Forbes)
Multi-family housing construction is doing surprisingly well recently. Over the long run, housing units in buildings with five or more housing units comprise about 25 percent of all housing units constructed. So far in 2014, the figure is 35 percent. Why is multi-family so popular now?
International
China's Real Estate Downturn Is No Catastrophe (Business Insider)
Chinese real estate is problematic, but not catastrophic. Chinese loan-to-value ratios on residential real estate loans are in the 50-60 percent range -- much lower than typical leverage ratios in the United States, which are currently 78.3 percent. Prices are certainly high, but Chinese policymakers have been guiding housing price appreciation to zero over the past few years, and therefore, I do not see housing falling off a cliff.
New Zealand House Prices World's 'Most Overpriced' Among Developed Nations (International Business Times)
New Zealand's housing market inflation was declared by the Organisation for Economic Co-operation and Development as the second highest in the developed world in its latest published report. The OECD has ranked New Zealand's housing prices based on a price-to-income ratio.
Realosophy Realty Inc. Brokerage is an innovative residential real estate brokerage in Toronto. A leader in real estate analytics and pro-consumer advice, Realosophy helps clients buy or sell a home the right way. Email Realosophy
Share This Article