Realosophy Team in Media Roundup, Toronto Real Estate News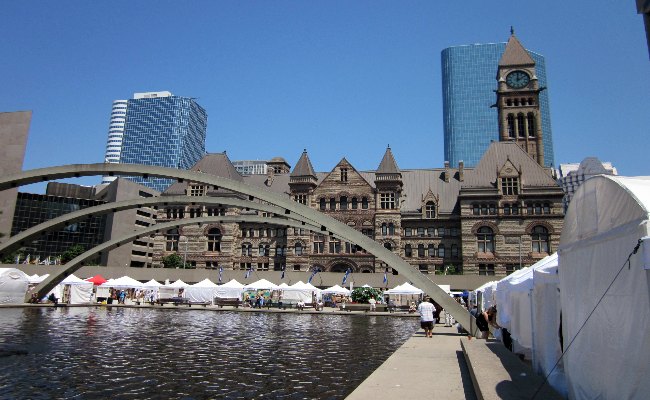 Photo Credit: Toronto Travel Guide

All you need to know regarding the housing market in Toronto, Canada and abroad.
This week in Toronto: Toronto condo developers rush to beat fee hikes, the city's weirdest yards and a new game pokes fun at local real estate cliches.
Elsewhere: Canadian cities where real estate prices are actually falling, what reality TV shows tell us about the housing market and China's Titantic moment.

Toronto
Toronto condo developers rushed to beat fee hikes (The Globe and Mail)
A large number of Toronto condo developers rushed to beat the recent increase in development charges, seeking to contain costs – and potential condo prices – at a time when an unusually high volume of condo projects is coming on stream.
Toronto's bull market in real estate looks set for an extended run (The Globe)
A rundown old house with a hodge podge of apartments in Roncesvalles Village drew crowds last week when it was listed with an asking price of $769,000.
Disclose problems if you're selling a house: Weisleder (Toronto Star)
In some cases involving the purchase of a house, it's not as easy as that for a seller to get off the hook. If you know there's something seriously wrong with your house, something that might not be found in a home inspection and you don't disclose it, you can be successfully sued later.
From fibreglass elephant to the Leslieville Doll House: Toronto's weirdest yards (Metro News)
Toronto, it seems, has plenty of ambitious yard decorators — though they may spark concerns about what their creations may do to neighbouring property values. There's no time like spring to check out some of the city's oddest and most spectacular yard art.
Now you can play Cards Against (Toronto) Real Estate (Blog TO)
Cards Against _______ is quickly becoming a fad in Toronto. Building off the now iconic design of the original game, local companies are tailoring the content to our city -- and, most recently, to our real estate market. In the wake of Scotty Graham's Cards About Toronto, we now have BuzzBuzzHome's playful attack on local real estate cliches.
Canada
Liberals' Wynne denies PC allegations of secret real-estate bailout (The Globe)
The Ontario Progressive Conservatives have accused Liberal Leader Kathleen Wynne of secretly approving $317-million to bail out a real estate development for a downtown Toronto research centre. But Ms. Wynne says the deal was confidential because it isn't finalized and would actually save taxpayers money in the long run.
Canadian cities where real estate prices are actually falling (Yahoo)
Each market has unique reasons to explain decreases in index and prices, but in Regina, analysts say overzealous developers take some blame: they've built too much, too fast. This year's dreadful winter hasn't helped, either.
Royal Bank offers real estate agents mortgage referral fees (The Globe)
Royal Bank of Canada, the country's largest mortgage lender, is offering real estate agents $1,000 for referring five first-time home buyers, as competition among banks for first-time buyers has heated up.
Why a Chinese real estate firm is planning to pump $3-billion into tourism in Nova Scotia (Financial Post)
Atlantic Canada remains one of the most affordable areas to purchase a home in the country, according to RBC's housing affordability report released on Tuesday. He said consumers have done a lot of the heavy lifting to spur growth.
USA
All-cash deals change the game in US real estate (The New Zealand Herald)
"Every fourth client I have now is an all-cash purchaser," said Baytler, a Russian speaker. "I had a client from Russia in February who purchased a house in Washington, DC, for $850,000 all cash. They want to leave [Russia] because of political unrest."
America's growing housing affordability gap (CNN)
In San Francisco -- the most expensive metro market in the nation with a median home price of $815,000 -- only 13.3% of homes could be purchased comfortably by households earning the median income of $100,000. That was down from 28.9% in 2013.
The House Shows Boom: How the Real Estate Market Is Reflected on TV (Time)
Housing shows today aren't the same as they once were. WhenTrading Spaces started, the genre was about redecorating and making the most of the space you lived in; the past decade has seen the growth of shows that are about improving houses in order to sell them rather than live in them.
International
Real Estate Tycoon Sees Titanic Moment for China's Housing Market (Wall Street Journal, New York)
"I think China's property market is like the Titanic and it will soon hit an iceberg in front of it," Mr. Pan told a financial forum on Friday, according to the China Business News. "After hitting the iceberg, the risks will not only be in the real estate sector. The bigger risk will be in the financial sector," he added.
House Hunting in ... Kuala Lumpur, Malaysia (New York Times, New York)
After remaining largely unscathed by the 2008 global real estate crisis, the Malaysian real estate market has been on fire since about 2011, with prices increasing roughly 30 to 35 percent through 2013, said Siva Shanker, the president of the Malaysian Institute of Estate Agents. The government took some steps in 2012 to attempt to cool down the market, including implementing more restrictive lending standards and increasing real property gains tax, Mr. Shanker said.
Realosophy Realty Inc. Brokerage is an innovative residential real estate brokerage in Toronto. A leader in real estate analytics and pro-consumer advice, Realosophy helps clients buy or sell a home the right way. Email Realosophy
Share This Article