Realosophy Team in Media Roundup, Toronto Real Estate News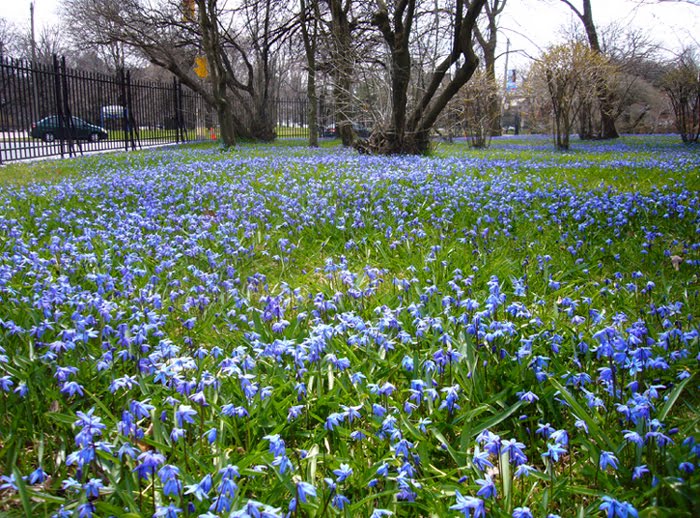 Photo credit: Occasional Toronto

All you need to know regarding the housing market in Toronto, Canada and abroad.
This week in Toronto: What happens when houses don't sell, Toronto catches up with Vancouver, and the BBC pays homage to our fair city.
Elsewhere: The OECD issues a fresh warning for Canada, the Fed is puzzled by the U.S housing market, and the future of housing in the UK.
This week from Realosophy.com
An Elegant Semi on a Tree-lined Danforth Street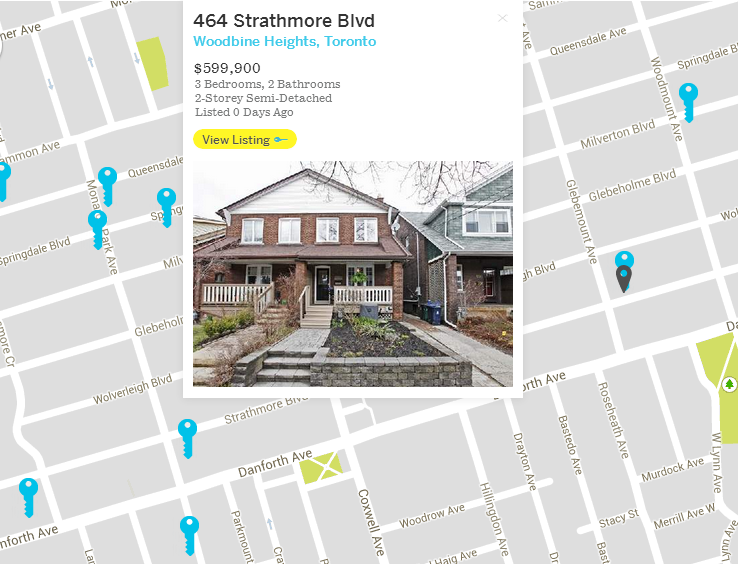 Photo Credit: Realosophy.com
A Quaint Semi in a Picturesque Leslieville Community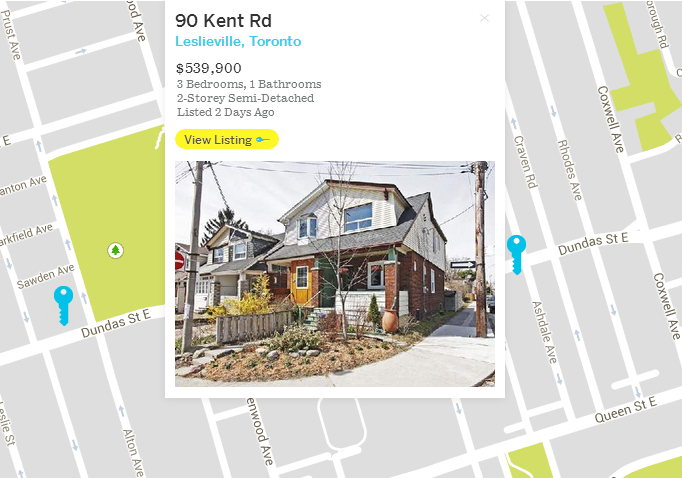 Photo Credit: Realosophy.com

Toronto
The houses that don't sell (Toronto Star)
"My wife and I consider ourselves somewhat knowledgeable about the real estate market, but we were not mentally prepared for this," says Bryce, 38.
Canada's million-dollar housing markets: Look out Vancouver, Toronto's moving in (Financial Post)
The Toronto Real Estate Board released its results for April sales Tuesday and those results show increased pressure on the single family portion of the resale housing market, pushing prices in the old City of Toronto close to $1-million for a detached piece of property.
The target is "phantom bids:" to prevent unsavoury agents from inventing nonexistent buyers to drive a home's price up, brokerages will now have to keep documented proof of each offer brought to the table. It should take effect by the end of the summer. Between now and then, the Real Estate Council of Ontario and the Ministry of Consumer Services are discussing exactly what documentation should be kept, and for how long.
When did Toronto get so cool? (BBC)
That's why Toronto is cool: it has been for a long time, and since it doesn't feel the need to advertise the fact, most of the world doesn't even know. Canada in general is understated in this way; it's not very Canadian to point out one's own awesomeness. Toronto is so cool, it might not even know it is.
Canada
OECD calls for tighter monetary policy, warns on Canadian housing market (BNN)
"To reduce housing-related risks to financial stability and improve lender incentives, mortgage-insurance coverage should be limited to only part of lenders' losses," the OECD said, without elaborating. The government's housing agency, Canada Mortgage & Housing Corp., has had some of its activities curbed by the government to minimize risks to taxpayers.
Too many condos? Canada's housing growth 'sustainable': BMO (The Globe)
When it comes to the question of whether we're building too many homes in Canada, economists at Bank of Montreal are suggesting everyone should just relax, even in Toronto where condos are popping up like dandelions.
Sales gains signal strong spring for much of Canada's housing market (The Globe)
But cities like Toronto and Regina are reporting sales levels that top the ten-year average for the month of April. And cities like Edmonton and Vancouver are showing double-digit increases over this time last year (although Vancouver's sales level for the month was 5.2 per cent below its 10-year average).
Canada Housing Starts Roar Back To Life In April (Huffington Post)
In April, the seasonally adjusted annual rate of urban starts increased in Ontario, the Prairies and Quebec and decreased in Atlantic Canada and British Columbia.
USA
Fed puzzled by 'disappointing' U.S. housing market, Yellen says (The Globe)
Fed chair Janet Yellen sounded a "cautionary note" Wednesday, telling lawmakers in testimony on Capitol Hill that recent housing data are "disappointing" and that future developments "will bear watching."
Senate push for U.S. housing finance bill comes up short (Reuters)
"Housing finance reform is going to pass out of the Banking Committee next week with bipartisan support, which is a landmark achievement for such a complicated and controversial issue," said committee spokesman Sean Oblack. "We have made significant progress bridging the divide among those previously undecided, and the committee vote is just a first step."
Housing paradox: All-cash sales rise as investor sales dip (USA Today)
"Florida is the most popular state for international buyers, who generally pay cash, as well as vacation-home buyers who frequently pay cash. In addition, downsizing retirees are known to pay cash from the proceeds of their homes in the north," Yun says.
International
China's looming debt bomb: Shadow banking and the threat to growth (The Globe)
Debt now stands to undo at least some of what China's spending has accomplished. Some of the country's major projects have done little more than strand vast amounts of invested capital. Debt is just one of the ticking time bombs in China today. China must also cope with the fallout from slowing spending in a place where social stability has been largely defined by one thing: the non-stop accumulation of wealth.
Labour's rent reforms: will a European model really work in the UK? (The Guardian)
As Generation Rent enter their late 20s and 30s they are becoming decision makers; they are starting to have influence. And with the focus on creating fair and stable private rent, some on the left have begun to call for a Europeanisation of Britain's housing market. They ask why we can't be more like Germany – a nation with a strong economy that is not reliant on home ownership.
Realosophy Realty Inc. Brokerage is an innovative residential real estate brokerage in Toronto. A leader in real estate analytics and pro-consumer advice, Realosophy helps clients buy or sell a home the right way. Email Realosophy
Share This Article