Realosophy Team in Media Roundup, Toronto Real Estate News
All you need to know regarding the housing market in Toronto, Canada and abroad.
This week in Toronto: Buyers finding it harder to move from condos to houses, condo buyers get what they pay for and too many rushing into becoming real estate agents?
Elsewhere: How HGTV has left viewers with beautiful kitchens and empty pockets and property booms in the latest US tax haven of Puerto Rico.
This week from Realosophy.com
A Distinctly Beautiful Danforth Semi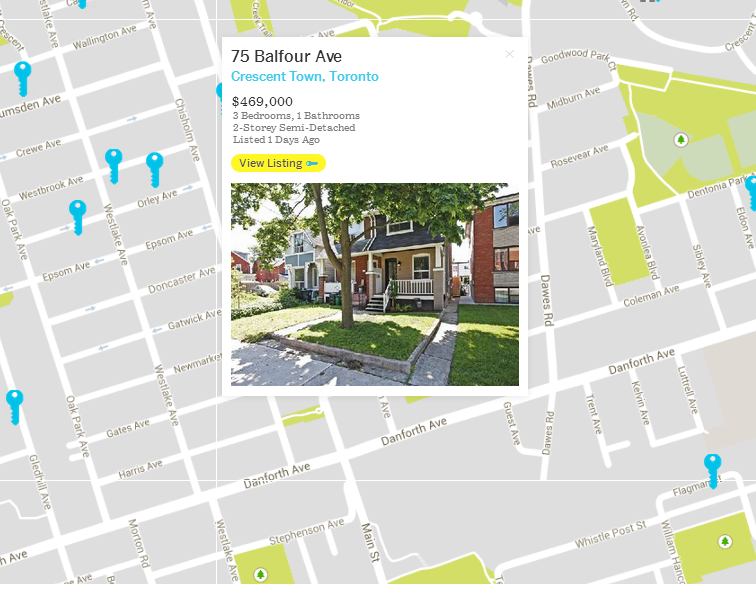 Toronto
Homebuyers face tougher time trading up from condo to house, TD warns (The Globe and Mail)
That means that "more choice and better affordability" in the condo market may well keep people from buying up to single family homes, as will the widening price difference that now stands at some $200,000.
Hawking real estate is not a get-rich-quick scheme (The Grid)
It seems like every other person you meet is running out to obtain a real-estate licence these days, including the gas-station attendant who filled up my car last week. The numbers don't lie: There are now upwards of 40,000 agents in the GTA alone, which is about double the Toronto Real Estate Board's (TREB) count from just a decade ago. Even if everyone you know is jumping into home sales, it's still worth carefully considering the costs associated with the business.
Beware of the too-cheap Toronto condo, urban planner warns (BNN)
"Sometimes you have to invest more up front in order to save later," says Lehrer, who has a PhD in urban planning. "If I had the authority to advise, I would actually suggest that the entire building industry produce higher-quality condominiums over all, and that, of course, means higher prices."
Banks urged to be responsible about householding lending (Toronto Star)
The problem is, with the cushion of dropping interest rates essentially gone, "the ability of the household sector as a whole to absorb major shocks is less now than it was a decade ago."
Gladstone rooming house fire: owner fined $350k (CBC)
Capt. Cathy Robertson of Toronto Fire Services says the property had multiple fire code violations including obstructed exits, a lack of operating smoke alarms along with missing fire extinguishers and exit signs.
Canada
'HGTV effect' pushes home renovation spending to record $63-billion (Financial Post)
Renovation spending has been rising for 15 straight years and reached a record $63.4-billion in 2013, which accounted for 3.7% of total Canadian gross domestic product, Altus said. More money is being spent on renovation than on all new home construction.
A Canadian Banking Crisis? 'Early Warning Indicators' Flashing, But Don't Panic (Huffington Post)
But almost all parts of the world that are at risk are seeing parallels with Canada's situation -- years of very low interest rates that have led to large increases in debt and possible asset price bubbles, including in real estate.
Albertans look to Okanagan for new homes (The Globe and Mail)
The other advantage is the value. The Albertan market is strong, so the Tilleys got a good price for their Chestermere house and parlayed it into better value in B.C.
USA
Atlanta: no longer the King of Sprawl (Atlanta Business Chronicle)
There is still sprawl, up and along the I-75 and I-85 corridors, but something very different is happening close to the traditional city center. There are three characteristics that make these new residence areas a dramatic change from what Atlanta has traditionally been known for and supported.
Puerto Rico: Tropical Tax Haven for America's Super Rich (Bloomberg Businessweek)
The government gives a tax break for businesses that move to Puerto Rico and provide services outside the country, perfect for a hedge fund with clients in New York and London. These firms pay only a 4 percent corporate tax, compared with 35 percent on the mainland. About 270 companies have applied for this incentive, according to officials.
International
Report Says China Real Estate Deflating, Yet Prices Up On Year (Forbes)
On Tuesday, U.S. Treasury Secretary Jacob Lew said that China's real estate market was concerning, but he didn't see any signs of a dangerous property bubble. He said there was a possibility of a bubble but noted that China had an "awful amount of tools" to stop it.
South Korea's pension fund earmarks $400 mln for Asia real estate (Reuters)
South Korea's National Pension Service (NPS) has hired a U.S.-based advisor to invest $400 million in Asian real estate, as the world's fourth-largest pension fund looks to increase its exposure to property in its home region.
Realosophy Realty Inc. Brokerage is an innovative residential real estate brokerage in Toronto. A leader in real estate analytics and pro-consumer advice, Realosophy helps clients buy or sell a home the right way. Email Realosophy
Share This Article