Realosophy Team in Media Roundup, Toronto Real Estate News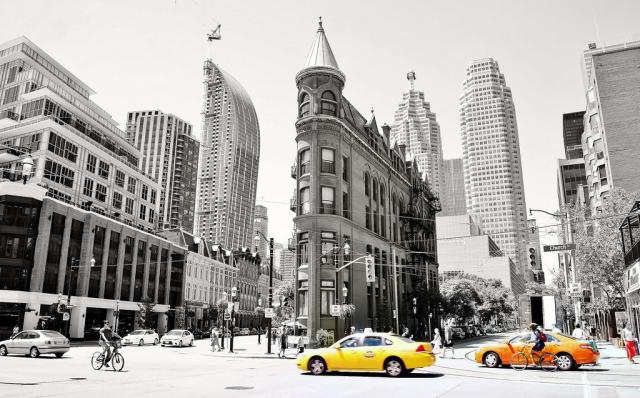 Photo Credit: urbantoronto.ca
All you need to know regarding the housing market in Toronto, Canada and abroad.
This week in Toronto: How "parasite" condos could bleed new life back into the city, a group of US investors has decided to jump aboard a Toronto real estate investment, and Toronto's housing market continues to rise along with the temperatures.
Elsewhere: Canada's hottest housing market may come as a surprise, why haunted houses have become a hot trend, and London's appeal continues to attract Middle East Investors.
This week from Realosophy.com
Modern Meets Vintage in this 3 Bedroom Leslieville Semi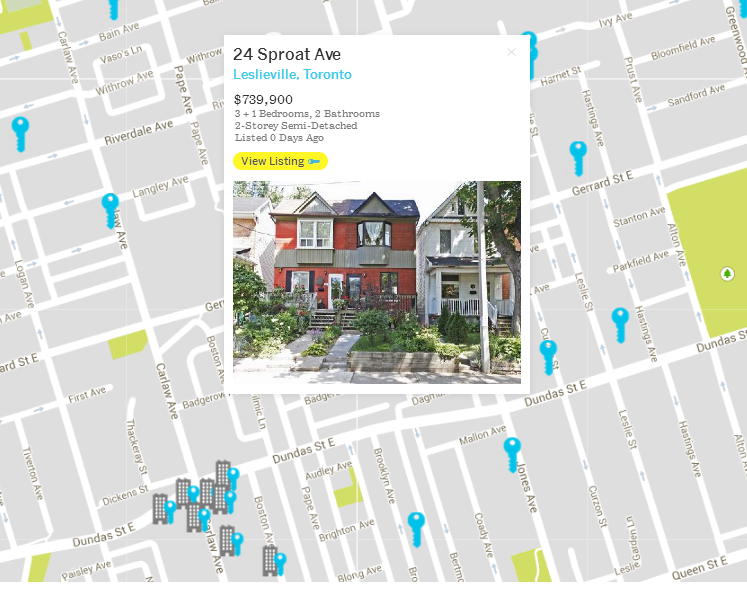 Toronto
The (literal) rise of the anti-condo (Maclean's)
The new development is playing into the trend of "creative densification," which aims to intensify urban cores while keeping the human scale. Spurred by a growing backlash against the dominant aesthetic of concrete and steel condo towers, cities like Vancouver have legalized laneway development, encouraging homeowners to convert back-alley garages into small detached homes.
Captain John's ship may be sold, for real this time (Toronto Life)
Captain John's boat at the foot of Yonge Street—once a restaurant, now a semi-abandoned hulk with no water service and limited land access—has been spawning sale rumours for almost a year and a half. The Star reports that the latest potential buyer may actually be legit, though.
Toronto housing market on track to be hottest in Canada for 2014: report (Toronto Star)
"A closer look at Canada's residential real estate market points to a tale of two city types, in which big city housing activity represents a small part of the picture but accounts for a large part of the gains in national average home prices," says Royal LePage.
Local real estate boards give hint of a surging housing market (The Globe and Mail)
The latest data on sales of existing homes across the country will be released by the Canadian Real Estate Board next week. But a number of local real estate boards have made their statistics available in recent days and the picture they paint is generally one of strength, especially in the highly-populated markets of Toronto and Vancouver.
GTA luxury home sales up 34 per cent in 2014: Sotheby's (Toronto Star)
More than one third of all high-end condos in the GTA actually sold for over list price in multiple bids, although not quite the bidding-war fever pitch that has driven the City of Toronto's particularly tight house market to stratospheric levels, pushing even basic detached homes to an average sale price approaching $1 million.
Canada
Here's the hottest housing market in Canada nobody's talking about (Global News)
The pace of home sales in this city has been growing faster than even in Toronto, while price gains in recent years have strained local affordability to levels that trail only Vancouver, Toronto and Montreal.
Economists see slower pace of housing construction (The Globe and Mail)
More important, Canada Mortgage and Housing Corp.'s Wednesday report on housing starts is projected to show a drop in the number of residential real estate units that launched in June.
High-end home sales booming across Canada (CBC)
In the first half of 2014, overall sales in the million-dollar-plus category were up by more than a third compared to last year's level in Toronto and Vancouver. But Toronto was the only place in Canada where sales increased in all categories of housing that Sotheby's tracks — condos, attached homes and detached homes.
USA
Investors get schooled in housing (CNBC)
From the front lobby, it could easily be mistaken for a spa hotel—the blue wave lighting on the wall behind the concierge desk, the sleek sofas and flat screen monitors. But this is no hotel. It's student housing—millennial style—and it may be one of the best under-the-radar real estate plays of the decade.
Hot on the Real Estate Markets: Buyers Dying to Live in Haunted Houses (ABC News)
A Realtor.com survey found that 62 percent of Americans would consider buying a haunted house, while 35 percent think they've lived in a haunted house.
Rich Chinese Are Top Foreign Buyers of U.S. Real Estate (NBC News)
Overseas buyers scooped up $92.2 billion of U.S. real estate last year, driven mainly by wealthy Chinese looking for a safe haven for their families and fortunes.
International
London's Residential Properties Continue to Woo Middle East Investors (Gulf Business)
"London's position as a capital city and financial centre, alongside its stable political system and transparent legal framework, continues to attract interest from across the Middle East," said Adam Challis, head of residential research at JLL.
How Soon Will China's Real Estate Market Bounce Back? (Forbes)
And this time the central government has largely stayed hands-off. Despite some small-scale stimulus packages, Beijing has not issued universal policy changes that will greatly impact the housing sector.
Investment in Russian Real Estate Plummets 60% (The Moscow Times)
The international crisis hit the ruble as hard as it hit investor confidence: by the time President Vladimir Putin signed the annexation document, the ruble had weakened more than 10 percent against the dollar since the beginning of the year, spooking many investors in Russia's import-heavy retail sector.
Realosophy Realty Inc. Brokerage is an innovative residential real estate brokerage in Toronto. A leader in real estate analytics and pro-consumer advice, Realosophy helps clients buy or sell a home the right way. Email Realosophy
Share This Article