Realosophy Team in Media Roundup, Toronto Real Estate News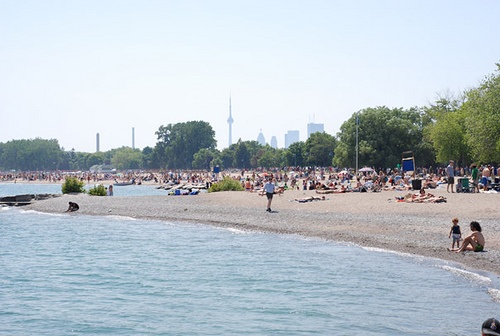 Photo Credit: Bronte Movers
All you need to know regarding the housing market in Toronto, Canada and abroad.
This week in Toronto: Happiness equals plenty of sales, why reading the market in this city is so difficult, and revitalizing 19 km of streetscape.
Elsewhere: The housing market in Canada is overvalued, the Chinese are buying plenty of real estate in the United States, building a house in Gaza and why Britain's pubs are disappearing.

Toronto
Buoyant mood keeps Toronto housing market brisk (The Globe and Mail)
This week, just as Fitch Ratings was once again warning about lofty prices in Canada's housing markets, a survey was released showing that Canadians' confidence in real estate has swelled to a high this year. Fitch says Canadian home prices are overvalued when compared with historical charts of the economic fundamentals – such as employment growth – that normally drive sales.
Reading Toronto's real estate market is no easy task (The Globe)
One worry, Prof. Andrew says, is that the "stress tests" banks perform to make sure a borrower can afford to continue to pay a mortgage at higher rates are not rigorous enough.
Eglinton Connects: A Plan to Revitalize 19 km of Streetscape, Explained (Torontoist)
The plans involve creating 38 kilometres of separated bike lanes along Eglinton and 20 hectares of new parks and open spaces, planting 1,150 trees, connecting Eglinton to trails and ravine systems in the Humber and Don River valleys, widening sidewalks, and creating or expanding laneways to improve access to local retail and alleviate street traffic and parking space needs.
Ottawa's cooling measures could speed Toronto condo price decline (The Globe)
Canadian housing economist Will Dunning says that actions the federal government took to cool the housing market back in 2012 could make any price declines in Toronto's condo market worse in the years to come.
Toronto's back alleys offer a different view of city (Toronto Star)
They're found mostly in the older parts of the city, though not exclusively. If you're walking or cycling to your destination, and not in a rush, trying getting around using laneways as much as possible; the city seems different when viewed from its backside.
Canada
How the housing market has cooled in most of Canada (CBC)
While the headlines from the Canadian Real Estate Association may highlight the nearly seven per cent spike in the average price of a house over the past year, analysts say the real story is that for most of the country, the housing boom appears to be over.
Canadian home sales beat expectations, surge in June (The Globe)
The number of existing Canadian homes changing hands hit its highest level in more than four years in June, a sign the country's housing market is flexing its muscles.
Vancouver and Toronto property prices start to percolate again (BNN)
Back when former finance minister Jim Flaherty moved to take some steam out of the market in mid-2012, he and economists expressed an especially high level of concern about two key areas: Vancouver, which had the most overvalued home prices in the country, and condos in Toronto, which were rapidly multiplying.
USA
The Chinese are coming, and they'd like to buy your house (Washington Post)
The United States is their preferred destination, and American real estate is becoming their new T-bills, a safe-haven asset. Like bullion, it's an asset class denominated in U.S. dollars, safe from confiscation and, when necessary, bought anonymously to hide wealth from governments or creditors or ex-partners. But unlike bullion, U.S. real estate can earn income, provide a roof and help obtain a visa.
Why the Chinese Are Snapping Up Real Estate in the U.S. (Five Thirty Eight)
According to the National Realtors Association (NAR) survey, the Chinese spent $22 billion on U.S. housing in the 12 months through March — 72 percent more than they spent the year before. Among foreign buyers, Canadians ranked highest in the share of transactions, at 19 percent, but the Chinese bought by far the most expensive homes, with a median price of over half a million dollars.
Your Move, Their Headache (New York Times)
But when housing shortages gripped the city in the 1940s and rent control as we know it was implemented, Moving Day — a Colonial holdover grounded in the English celebration of May Day — faded into oblivion. And while we no longer move en masse, the majority of New Yorkers continue to rent, and move, frequently.
International
Last Call? Britain's Pubs Disappearing in Hot Real Estate Market (NBC)
The shift has particularly been felt in London, where sky-high real estate prices have led some pub owners to cash in and sell the buildings to developers, who then transform them into houses and apartments.
From the archives: Mahmoud Al-Zahar's big, new house in Gaza (Maclean's)
Mahmoud Al-Zahar's big new house in Gaza city is almost finished. The workers are busy on rickety scaffolding, four storeys in the air, attaching stone facing. Its polished surface is tinted an unusual shade of green — an exact match for the flags of Hamas flying proudly atop his front gate.
Realosophy Realty Inc. Brokerage is an innovative residential real estate brokerage in Toronto. A leader in real estate analytics and pro-consumer advice, Realosophy helps clients buy or sell a home the right way. Email Realosophy
Share This Article