Realosophy Team in Media Roundup, Toronto Real Estate News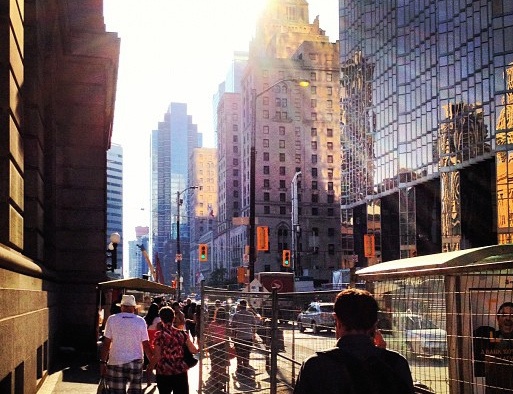 Photo Credit: WikiCommons

All you need to know regarding the housing market in Toronto, Canada and abroad.
This week in Toronto: How Realosophy is helping bridge the information gap, why some Toronto homes are re-listed at higher prices and a new 'rent monster' in the city.
Elsewhere: Vancouver is safe from a housing crash, lessons to be learned from Ireland's downturn, how renting is driving U.S. home ownership to new lows and the hidden reason for America's shrinking wealth.
Toronto
Zillow, Trulia and the Future of Real Estate Disruption (Tech Vibes)
The latest tool being developed at Realosophy is called StreetWise and bridges this information gap. It is a built on the belief that by mining and analyzing the right data we can learn things about houses, neighbourhoods and condo buildings that are not transparent to us today.
Why are some Toronto homes being relisted - at a higher price? (The Globe and Mail)
It seems some Toronto homeowners aren't getting the bidding wars they hope for when they list their houses for sale. But in a move that irks many market watchers, the owner pulls the listing, then relist a week or two later at a higher price.
Akelius, a Swedish-owned company, says it's offering a new style of modern rental living. But tenant advocates are warning that its aggressive pursuit of higher rents is threatening to distort the city's already unaffordable housing market – and push lower-income residents out of their communities.
Supreme Court chooses to avoid Toronto real estate competition case (The Globe)
The Supreme Court has denied the Toronto Real Estate Board (TREB)'s request that the court wade into the heated battle between the Competition Bureau and TREB, the country's largest real estate board representing about 39,000 realtors in the Toronto area.
Canada
Canada's most expensive housing market not headed for crash (Financial Post)
A leading credit rating agency says Canada's most expensive housing market may not be all that affordable for the average family, but despite that no major correction is coming Vancouver's way.
Canada should learn from Ireland's housing crash (The Globe)
That's not to say the Canadian housing market is poised for a crash the likes of which were seen in Ireland and the United States about six years ago. But Ireland is now looking at Canada with envy when, perhaps instead, we should be learning from them.
'Sympathy for the Doomster': Canada's housing market embarrassing the bears (Yahoo Finance)
In a report called "Sympathy for the Doomster," Bank of Montreal chief economist Douglas Porter calls on market watchers to "spare a thought" for the critics who have been predicting for years that Canada's housing market will crash, but have yet to be proven correct.
CMHC turns up scrutiny of condo investors as concerns of overheated market grow (Bloomberg)
Calls are growing louder for more detail about who's investing in the nation's condo market, including how much is owned by foreigners, and what the risks are. Policy makers have warned for the past half decade a bubble may be forming in Canadian real estate, and some analysts have said prices are as much as 20% overvalued.
USA
Renting drives U.S. homeownership to 19-year low (MSN)
"We are becoming more of a rental society. It's becoming harder to own a home," said Patrick Newport, an economist at IHS Global Insight in Lexington, Massachusetts. "People who lost their homes to foreclosure are now renting and credit standards have tightened significantly."
Who's helping support the U.S. housing market? (Indy Star)
Indeed, China is a financial powerhouse, replacing Japan just a few years ago as the second-largest economy in the world. Regardless, our nation's neighbors represent some of our largest trading partners, with Canada holding the number one position.
The Hidden Reason for Americans' Shrinking Wealth (Businessweek)
From a financial perspective, the average household is still overexposed to real estate. This has contributed to widening inequality, and Americans are still vulnerable to a single market. It helps that a house isn't simply an investment—it's a place to live, and there are benefits to homeownership that fluctuating home values don't capture. Even so, few investment professionals would recommend concentrating so much wealth in a single, highly leveraged asset. No wonder American wealth still hasn't recovered.
International
Investors Bet on China's Large Property Developers (Wall Street Journal)
A slowdown in the housing market sent property sales down 9.2% in the first half of 2014, while prices fell for a second month in June. The slide hurt smaller developers, in particular, which tend to operate mostly in smaller cities that have an oversupply of housing.
Disabled people in Britain face a hidden housing crisis, charity warns (The Guardian)
"Not adapting homes condemns people to the misery of Victorian strip washes and ultimately possibly to leaving their homes and incurring massive care costs, when they would prefer to live independently," said Clare Pelham, the charity's chief executive.Of those people with mobility problems, more than half say they find it difficult to sleep in their bedrooms, while one in five say they find it very difficult to use their stairs.
Realosophy Realty Inc. Brokerage is an innovative residential real estate brokerage in Toronto. A leader in real estate analytics and pro-consumer advice, Realosophy helps clients buy or sell a home the right way. Email Realosophy
Share This Article