Realosophy Team in Media Roundup, Toronto Real Estate News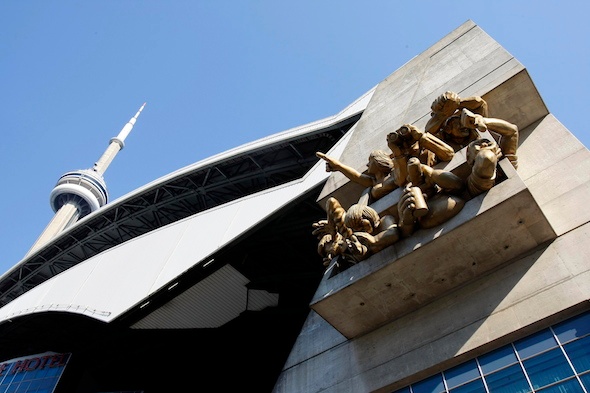 All you need to know regarding the housing market in Toronto, Canada and abroad.
This week in Toronto: Most condos owned by end users, Tower once considered cutting-edge comes down in Regent Park and Community housing won't get a cash influx anytime soon.
Elsewhere: Stats Can fixes its numbers, Winners and losers in Canada's houing market, the income gap in the United States widens and the United Kingdom pauses for a breath.
Toronto
CMHC report says just 17.1% of Toronto, Vancouver condos investor-owned (The Star)
Canada's federal housing agency has tried — yet again — to pull back the curtain on Toronto's and Vancouver's condo market and says a new survey of condo owners shows just 17.1 per cent are investors and 82.9 per cent own the unit in which they live.
Second Last Dickinson Tower Coming Down at Regent Park (Urban Toronto)
A couple months have passed since the teardown started, and work has now moved on to the demolition of the adjacent high-rise apartment tower at 42 Blevins Place, the second last of five similar towers on the site which were designed by the late Canadian architect Peter Dickinson. Dickinson is chiiefly credited with moving Toronto into the era of Modernist architecture.
$801-million funding pledge won't go to community housing repairs in Toronto
(Toronto Star)
"The funding announced today cannot be used for TCHC buildings, as part of the arrangement with the federal government says that projects that have an agreement with CMHC (Canada Mortgage and Housing Corp.) relating to finance, operation or occupancy are not eligible for funding. This includes TCHC," a McMeekin spokesperson said an email statement to the Star.
New in Toronto real estate: River City Phase 3 condos (Blog TO)
At 29-storeys, the stacked design highlights the unique nature of each unit, while keeping things visually stimulating for those walking by. With landscape design from Claude Cormier, the outdoor spaces show play well off of the rest of the development, with a green roof and lap pool serving as particular highlights.
Six-way fight helps Harbord home go $239,567 over asking (The Globe and Mail)
In early June, buyers had a decent list of homes to choose from in Harbord Village, but this semi-detached Victorian was on a street with little turnover, so it was intentionally priced at less than $1-million and offers held off for one week. All those factors combined resulted in a bidding war between six shoppers, and one party assembled $239,567 over the list price.
Campaign Fact-Check: Rob Ford on Toronto's Fiscal Health and Future (Torontoist)
(The report does note in an aside that politicians often claim to have much more influence on a city's economy than they actually do—but adds, "elected officials in general, and at the City level in particular, have little direct control over broad economic trends such as GDP growth, housing booms, or unemployment rates.")
Canada
Correct Statscan report finds 42,000 jobs added in July, not 200 (The Globe)
The Canadian economy created 42,000 jobs in July – not 200 as mistakenly reported last week by Statistics Canada – as revised numbers beat market expectations.
Winners and losers in Canada's housing market (The Globe)
Canada Mortgage and Housing Corp. released a new forecast this week that was more bullish about Canadian prices, sales and construction than its prior forecast in May. But the national figures meld together very different markets from coast to coast. Here's a regional breakdown of what CMHC is expecting.
Canada new housing prices climb for a seventh month (Reuters)
The combined metropolitan region of Toronto and Oshawa, which accounts for 28 percent of the overall market, was the top contributor to June's growth. Prices rose by 0.3 percent on healthy market conditions and higher new list prices.
Canada's housing starts up in July; concern voiced about 'unsustainable' activity (CTV)
"This level of activity is unsustainable over the near term, on account of an already moderate level of overbuilding as well as the likely gradual increase in interest rates," says TD economist Jonathan Bendiner.

USA
US income gap widest in decades, based on housing market data (RT)
"Housing markets are playing out at very different speeds partly as a result of the lack of geographical breadth in the labour market. Certain sectors of the economy are performing better than others, propelling some housing markets over others," said Fannie Mae economist Mark Palim.
US officials close military base housing unaccompanied migrant children (The Guardian)
The shelter at Fort Sill in southwest Oklahoma closed August 6, said Kenneth Wolfe, the spokesman for the US Department of Health and Human Services' Administration for Children and Families. The shelter at Naval Base Ventura County in California shut down August 7, Wolfe told the Ventura County Star.
James Hardie warns of slower US housing recovery (Brisbane Times)
But the company admitted it had severely overestimated the strength and speed of the recovery in the US, where it generates about 80 per cent of its revenue.
International
UK housing market pauses for breath, surveyors say (BBC)
"The shift in the mood music amongst potential buyers in the London market has been particularly pronounced, but that is in a sense consistent with the move to a more sustainable market in the capital," said Simon Rubinsohn, chief economist at Rics.
Realty sector calls for greater liquidity, investments in housing in India (The Hindu)
Overall, the real growth of investments in the sector has been less than 2 per cent in the last few years, he said.
House Hunting in ... Mexico (New York Times)
It is possible to buy a renovated 19th- or early 20th-century house in Mérida's downtown for as little as $275,000, Ms. Lytle said, but "prices go up to the millions." Extremely old houses cost more, as do homes in central locations with larger gardens, such as this one.
Realosophy Realty Inc. Brokerage is an innovative residential real estate brokerage in Toronto. A leader in real estate analytics and pro-consumer advice, Realosophy helps clients buy or sell a home the right way. Email Realosophy
Share This Article