Realosophy Team in Media Roundup, Toronto Real Estate News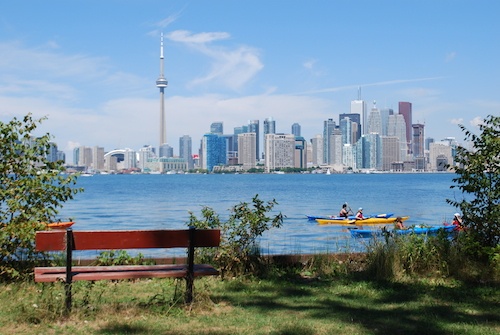 Photo Credit: Toronto Newbie

All you need to know regarding the housing market in Toronto, Canada and abroad.
This week in Toronto: Why buying a home in the city is now a million-dollar dream, our Mayoral candidates talk housing and how to avoid real estate scams.
Elsewhere: Canadian home builders look south, the U.S. housing market isn't as bad as it looks and popping property bubbles in Europe.
Toronto
Buying real estate in Toronto: The million-dollar dream (The Globe and Mail)
Most real estate observers rounded up to $1-million, and clarified that they were discussing the cost of a house, not a mansion: just a nice place to live, where two kids can each have their own bedrooms, and we're not constantly yanked into the drama between neighbours on the other side of a wall.
Toronto lawyer arrested in alleged condo fraud totalling $12.4-million
(The Globe)
At a time when construction is booming in Toronto, the alleged fraud calls into question whether strong enough safeguards exist for condo buyers in the city. While real estate lawyers and authorities say a crime of this nature is rare, others say the new-sale market needs more oversight.
Mayoral candidates repurpose housing, jobs policies for child poverty fixes (Toronto Star)
Chow, who won cheers from the crowd as she spoke passionately on a topic she has long championed at the city and in Ottawa, promised to create 15,000 affordable housing units by forcing developers to dedicate 20 per cent of units in new projects — also part of a previously released policy.
Real estate scams: how to avoid falling for one (CBC)
Richard asked for $1,000 a month in rent for a home he said he had initially listed for sale after relocating to Iowa. He now wanted to rent it because, he said, the home had failed to attract a buyer after several months on the market.
Canada
Canadian home builders look south, bet on U.S. housing recovery (Reuters)
Overheating worries at home are driving Canada's home builders south of the border where they are buying up rural land, betting on a recovery in the U.S. suburban housing market even as many local players remain on the sidelines.
Mortgage rate drop means housing more affordable this spring (CBC)
The least affordable markets were Toronto and Vancouver, where hot competition for properties kept home ownership out of reach for most buyers, despite a marginal improvement in the quarter. Vancouver is the least affordable market with sky-high prices, especially for single family homes.
Surge of new listings eases Calgary's housing market (The Globe)
Calgary's tight housing inventory is starting to ease as more properties hit the market. But realtors say high prices for single-family homes continue to push more buyers into condos.
Vancouver real estate titles reveal city's racist history (CBC)
To many people, Metro Vancouver stands for diversity, but there's a dark history behind how some local neighbourhoods and property owners dealt with minority groups.
USA
Housing in America: It's not as bad as it looks (Fortune)
To judge the state of the housing market, we should focus on housing starts (new home construction) and housing inventory. Both of these measures are on the rise amid steady or slightly rising home prices. This suggests that the housing market is continuing to slowly mend and reclaim its place as one of the drivers of the broader economy.
'Poor door' opens a window on housing affordability crisis
(Al Jazeera)
With increased visibility, public sentiment may frown on more poor doors, but right now, the law is all smiles. As has been witnessed with other restrictive zoning changes in the city, developers rush to start projects under the more favorable law. If laws are not changed almost instantly or written to be retroactive, New York's poor doors will likely live on as a prevalent social and architectural feature — with or without their catchy name.
Ferguson's Experience Offers Lessons on Integration (Wall Street Journal)
In 1996, Dan Duncan, a drug and alcohol counselor, joined others to devise a program that pooled funds to make up for a resident's drop in home value—an inducement to keep white owners from selling cheaply. And—in the days before widespread Internet use—it publicly posted real-estate listings in the Ferguson area to show prospective buyers their options and prevent realtors from "steering" races into segregated neighborhoods.
International
Housing association commercialism has cost the UK 18,500 new social homes (The Guardian)
Many housing associations have charitable status. The vast majority are not for profit, in other words they do not distribute dividends to shareholders. That means they are free to set rents that take into account the earnings and livings costs of their tenants when deciding the right level of rents. For example, if there had been a doubling in profits since 2009 – say to £400m – each social tenant would be paying £500 a year less in rent. That would make a massive difference to some of the least well off people in the country.
Popping property bubbles: Choosing the right pin (The Economist)
It is not just Sweden: in June the IMF called on policymakers to do more to curb housing prices around the world, pointing out that valuations looked high in many countries. In May the European Central Bank singled out sky-high prices in Belgium, Finland and France; in July Moody's, a ratings agency, said that Britain showed signs of a new property bubble. The trend is all the more remarkable given that many of those economies have not fully recovered from the financial crisis and are growing feebly if at all.
Realty Inc. Brokerage is an innovative residential real estate brokerage in Toronto. A leader in real estate analytics and pro-consumer advice, Realosophy helps clients buy or sell a home the right way. Email Realosophy
Share This Article