Realosophy Team in Media Roundup, Toronto Real Estate News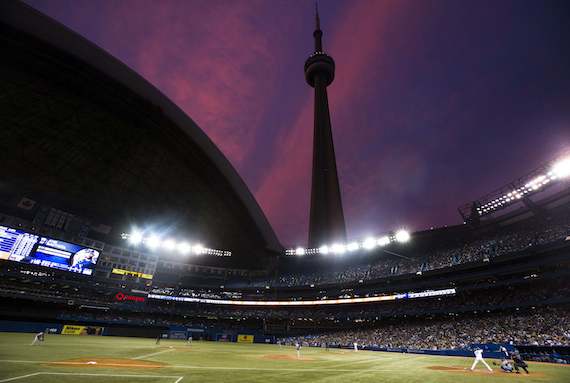 All you need to know regarding the housing market in Toronto, Canada and abroad.
This week in Toronto: Housing prices in the city continue to rise, the homes versus condos debate rages on and new plans for a Riverside landmark are causing a stir in the east end.
Elsewhere: What we don't know about Canada's housing market could sink us, the lavish lifestyle of America's archbishops and worrying signs out of China.
Toronto
Toronto home resales jump 10% in July (CBC)
The average sales price was up 7.5 per cent to $550,700, with the biggest increase occurring in the average selling price of.detached houses in the city of Toronto. Those were up 11 per cent year-over-year to an average of $880,433. Average condo prices in Toronto were up 4.7 per cent to $379,000.
Charting Toronto's housing bubble Pt. 2: Houses vs Condos (Maclean's)
Anyone reading the real estate news these days will know that detached houses are becoming a rarity in the city and prices are soaring as a result. Meanwhile, condo prices haven't risen nearly as fast thanks to the onslaught of new construction.
Home prices keep on rising in Toronto and will for the rest of the year, realtors say (Financial Post)
Toronto's numbers follow a strong results from Calgary and Vancouver released earlier in the week. In Vancouver sales topped 3,000 in July for the fourth straight month and the board's benchmark prices was up 4.4% from a year ago. The benchmark price for a home in Calgary rose $459,200, a 10.8% increase from a year ago.
In Toronto, When A House Doesn't Sell, The Price Goes UP (Huffington Post)
In perhaps the most egregious example yet, a five-bedroom house in the Yonge and Lawrence area listed for $699,000 this past April, well below the going rate for a standalone house in the area, where most these days are listed above $1 million.
New owner of Jilly's strip club buys two sites nearby for condos (Toronto Star)
The new owner of Jilly's strip club has bought up 4½ acres of land just to the west of the landmark hotel and hopes to create a new community — including three condo towers — that will connect Riverside to the downtown.
Canada
What We Don't Know About Canada's Housing Market Could Sink Us (Huffington Post)
Some industry observers have warned for years that the market is headed for a big drop, that the levels of borrowing and sky- high pricing are unsustainable. But so far they have been wrong. Prices continue to rise while incomes stagnate. With no end in sight, conflicting views of the health of the market abound.
Canada in 'significant' housing bubble (Financial Post)
"I firmly believe we have a significant property bubble here in Canada," Hodgins said, noting residential property prices on a price-to-rent ratio are more than 50% overvalued if rates end up in the more normal 3%-to-4% range. "If and when short-term interest rates rise, you'll see property prices come down sharply."
Vancouver housing prices rise to new highs (The Globe and Mail)
"This is the fourth consecutive month that the Greater Vancouver market has exceeded 3,000 sales," board president-elect Darcy McLeod said in a statement. "Prior to this, our market had not surpassed the 3,000 sale mark since June of 2011.
USA
U.S. housing market: Stuck in a multi-year hangover (Forbes)
Just because home prices have recovered once again, however, doesn't mean that we have seen the last of the effects of the real estate bubble. According to Core Logic, the foreclosure inventory is now concentrated in a few states, like Nevada, which were hit particularly hard by the real estate bubble, or states like New York and New Jersey, which are "judicial foreclosure" jurisdictions that have laws preventing mortgage lenders from foreclosing without court approval.
The lavish homes of American archbishops (CNN)
"There's no reason a bishop has to live like a prince or medieval monarch, even if he inherited the place from his predecessor," said the Rev. Steven Avella, a Catholic priest and professor of religious history at Marquette University. "They should convert the mansions to museums and move into rectories."
U.S. to Shut 3 Interim Shelters Housing Immigrant Children (New York Times)
"We are able to take this step because we have proactively expanded capacity to care for children in standard shelters, which are significantly less costly facilities," department officials said in a statement. "At the same time, we have seen a decrease in the number of children crossing the southwest border."
International
Average house prices in London jump 19% in a year (The Guardian)
"If London and the south-east are removed from the equation, the annual change in average houses prices drops to 4.6% ... Outside of London, the south-east and east Midlands, prices dropped and stabilised across all other seven regions in June." Newnes said further interventions or tighter rules "could fracture the health of the recovery".
In China, Beginnings Of A Foreclosure Crisis? (Forbes)
Foreclosures are starting to be reported in China, home to the most talked about housing market on earth. According to the 21st Century Business Herald, three cities have reported increases in the number of bank repos of Chinese properties. Has a foreclosure crisis begun in China? If so, the China housing bears would have been vindicated.
Realosophy Realty Inc. Brokerage is an innovative residential real estate brokerage in Toronto. A leader in real estate analytics and pro-consumer advice, Realosophy helps clients buy or sell a home the right way. Email Realosophy
Share This Article