Realosophy Team in Media Roundup, Toronto Real Estate News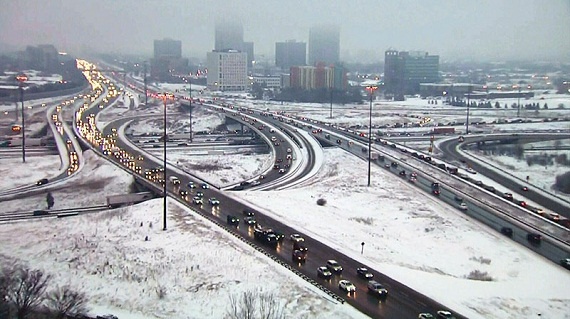 Photo Credit: CTV
All you need to know regarding the housing market in Toronto, Canada and abroad.
This week in Toronto: Condos are still in demand, a meth lab in Liberty Village and a former strip club is slated to become a boutique hotel.

Elsewhere: Maybe Canada needs more housing, not less, millenials are finding it hard to live and work in the United States and the Dutch housing market is on the road to recovery.

Toronto
Condo demand in Toronto remains high, analysts find (Toronto Star)
Though that paper doesn't mention condos specifically, Tal expanded on the subject in an interview. "I think that the condo market is misunderstood; I think that people count cranes and they say, 'This is crazy,'" he said. "This is a market clearly with a lot of supply, but the demand is there, too … I do believe that new immigrants can add to this demand, and it's definitely happening."
Liberty Village condo that exploded suspected of being drug lab: police (National Post)
A man in his 30s was taken to hospital Monday night with burns to his face and hands after an explosion in a Liberty Village condo that police believe was a clandestine drug lab.
Former Jilly's strip club site to become boutique hotel (The Star)
Streetcar Developments, the firm that owns the property, will face City Hall's Committee of Adjustment Wednesday in a bid to gain approval for sweeping renovations that would more than double the site's floor space.
How Mid-Rise Wood Buildings Could Make Toronto Housing Market More Affordable (Huffington Post)
Vince Molinaro just got back from a trip to British Columbia, where he and about 40 other builders and developers from Ontario went with a mission: to find out how the province built and marketed its mid-rise wood sector.
The great Toronto rebuild (The Star)
This renovation and rebuilding boom is fuelled by what James McKellar, director of the real estate and infrastructure program at York University's Schulich School of Business, calls "a major structural shift in the consumer market for housing."
Finding Better Uses for Toronto's Public Laneways (The Torontoist)
The Laneway Project wants Toronto to follow the leads of such cities as Melbourne, Chicago, and Vancouver, where laneways are filling up with cafes, small businesses, and shops, and turning into pedestrian areas full of greenery. "We want to think of laneways as another level of public space, and one that can be utilized in more and more interesting ways," Keast says.
Canada
Housing bubble begone. Turns out we just might need all those new condos and houses (Financial Post)
"Ask any real estate developer in any of Canada's major cities about the risk of overbuilding, and the first line of defence would be immigration and its critical role in supporting demand," writes Mr. Tal, in a note he coauthored with Nick Exarhos. "It turns out that at least for now, this claim is more valid than widely believed."
Is helping children buy their first home becoming 'the next parental responsibility'?
(FP)
It's the type of family support that some people will be proud to give and others will be jealous they never got, but a new survey shows first-time home buyers are getting on average more than $10,000 from family members.
Canada's housing market a '3-city show' as sales score best October since 2009 (The Globe and Mail)
"Another month, another familiar tune in the Canadian housing market - very strong activity in Vancouver, Calgary and Toronto, but much more subdued conditions most everywhere else," said senior economist Robert Kavcic of BMO Nesbitt Burns.
Canada Mortgage and Housing Corp. says Canadian housing prices have been higher than U.S. prices in real terms since 2006, an indication that the market here may be overvalued.
USA
Why It's So Hard for Millennials to Find a Place to Live and Work (The Atlantic)
The Dayton-SF dilemma isn't about Ohio vs. California. It's about a broader dilemma for young workers and, in particular, young couples looking to buy a home, raise children, and achieve the American Dream. The cities with the least affordable housing often have the best social mobility. And the cities with the worst social mobility often have the most affordable housing. When good jobs for the middle class and affordable homes are living in different cities, it represents a slow-motion splintering of the American Dream.
How The Youngest Member Of Obama's Cabinet Plans To Tackle The Homelessness Crisis (Think Progress)
"Oftentimes, under the old housing model, we wanted folks to jump through hoops and show responsibility first and then we would give them the opportunity for permanent housing. Housing First turns that on its head," he said. "It's taking a bit of a leap of faith to give the opportunity first and then get responsibility from folks, and has shown to be more effective."
Single-Family Home Starts Rise for 2nd Straight Month (New York Times)
Starts for single-family homes in the United States rose for a second straight month in October, and overall building permits approached a level last seen in 2008, suggesting the housing market was still on a recovery path.
International
Euro Area's Third Housing Bust Abates as Dutch Prices Stabilize (Bloomberg)
"The situation was disastrous. I've been in this business for 35 years and I had never seen a crisis like this," de Ruiter, who designs housing projects in cities including Rotterdam and Amsterdam, said in a Nov. 13 interview. "Only since this summer have I seen the number of orders picking up."
Realosophy Realty Inc. Brokerage is an innovative residential real estate brokerage in Toronto. A leader in real estate analytics and pro-consumer advice, Realosophy helps clients buy or sell a home the right way.
Email Realosophy
Share This Article