Realosophy Team in Media Roundup, Toronto Real Estate News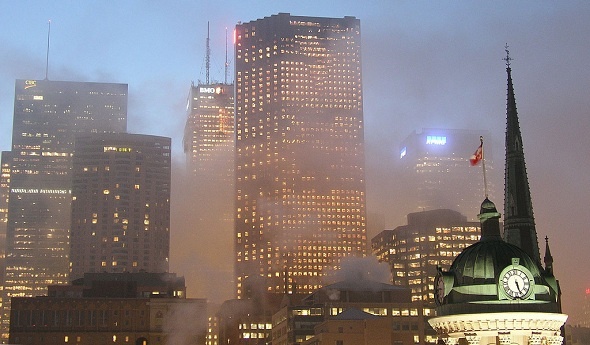 Photo Credit: WikiCommons
All you need to know regarding the housing market in Toronto, Canada and abroad.
This week in Toronto: The housing market is hot, hot, hot, the story of Yorkville without the glitz and how this city became split by class.
Elsewhere: A warning for the Canadian government, Silicon Valley's wild housing prizes and a Japanese firm enters India's housing market.

Toronto
Toronto housing market still on fire, adding heat to national debate (Financial Post)
Home prices continued to rise across the Greater Toronto Area in October, matching similar gains in Calgary and Vancouver which should continue to inflate national housing numbers due out later this month.
Toronto house prices up 9 per cent in October (The Toronto Star)
Even the condo sector continues to see strong demand, with prices up 2.5 per cent and sales up 6.8 per cent, as buyers look to get a toehold in a market that shows no signs of slowing.
Cumberland Terrace Tells the Story of Yorkville at a Glance (Torontoist)
Promoted as "the nicest way from Yonge to Bay" when it opened in October 1974, the mall's resistance to modernization—orange and brown tiles, large banks of phones, signage for chains such as Teriyaki Experience unused elsewhere for decades—gives Cumberland Terrace the feel of a living museum, and makes it perfect venue to celebrate the history of Yorkville.
How Toronto, Vancouver and Montreal became cities split by class (The Globe and Mail)
[Tory's] inclusive tone is a welcome change of tact after the corrosive behavior and attitudes that marked the Rob Ford era. Tory takes the reins of a city deeply divided. But these divides transcend the old city-suburb split which has defined Toronto and most major metros since the 1960s. That old divide was clear in first election of the mega-city in 1998 where the urban old city of Toronto was pitted against the surrounding suburbs, with the urban centre going all in for Barbara Hall and the suburbs throwing in for Mel Lastman.
Canada
Canadian government overexposed to housing market, Bank of Canada official warns (The Globe)
The Canadian government is now too "exposed" to the country's hot housing market, warns a top central bank official who's calling for more private-sector involvement.
Vancouver Greens look south to Portland for affordable housing ideas (The Straight)
Tiny Houses an wood-frame construction are some of the housing ideas that the Green Party of Vancouver wants to see the city looking at. Those are two of the proposals that are outlined in the party's municipal-election platform. As part of a list of almost 20 policies related to housing, the Greens are vowing to "encourage other affordability measures such as wood-frame multi-unit housing construction".
Get used to taller buildings as Hamilton's housing boom continues (CBC)
If Hamilton wants to keep its healthy housing growth, experts say, it's going to have to get used to intensification. That includes more buildings, taller buildings and condo towers in new locations.
USA
Silicon Valley's Crazy Currency: What Will 13,772 Apple Shares Buy? (Forbes)
Silicon Valley's property prices — which have seemed half-mad to the rest of the U.S. since the 1980s — have now gone totally crazy, according to a nicely researched front-page story in today's San Jose Mercury News. An 1,100 square-foot fixer-upper in Cupertino, Calif., near Apple's headquarters just sold for $1,385,000.
From the minute the first plane hit the north tower of the World Trade Center, Luis Torres has had a floor-to-ceiling view of both the destruction and the reconstruction that has defined Lower Manhattan for more than a decade.
For decades, Atlantic City was an Eastern beacon for fun and games, a resort town that came to be known for its gleaming boardwalk lined with flashy casinos that rivalled those in Las Vegas. This is where the Miss America Pageant began, where stars like Marilyn Monroe, Frank Sinatra and Bing Crosby came to play and where the board game Monopoly was invented using the city's street names like Boardwalk and Park Place.
International
World faces $650 billion housing problem (CNBC)
A staggering 330 million urban households around the world live in substandard housing or are so financially stretched by housing costs they forgo other basic needs like food and health care, according to McKinsey.
Britons face tax hike on coveted French second homes (The Telegraph)
British owners of second homes in coveted areas of France could see the Gallic equivalent of their council tax rise by 20 per cent under measures due to be presented next week.
Japanese Firm Enters Indian Property Market, To Build 3,500 Homes (Business World)
"India has tremendous potential for growth in housing. We have found a reliable partner in Developer Group to enter into the Indian market. We want to replicate Suzuki story in India," Tama Home President and CEO Yasuhiro Tamaki said.
Realosophy Realty Inc. Brokerage is an innovative residential real estate brokerage in Toronto. A leader in real estate analytics and pro-consumer advice, Realosophy helps clients buy or sell a home the right way.
Email Realosophy
Share This Article