Realosophy Team in Media Roundup, Toronto Real Estate News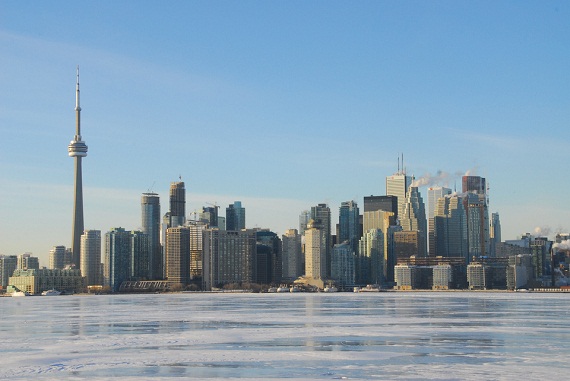 Photo Credit: Julie Kinnear
All you need to know regarding the housing market in Toronto, Canada and abroad.
This week in Toronto: The price gap between houses and condos rises, affordability in the GTA continues to fall and the best day to buy a house in January.

Elsewhere: Analysts weigh in on the Bank of Canada's interest rate cut, a resurgent housing market is propping up the U.S. economy and the end of a Thatcher policy in the U.K.

Toronto
Price gap between Toronto houses, condos hits record high (The Globe and Mail)
The growing price gap between condominiums and houses hit a record high last year in the Toronto area, as the market saw a huge jump in the number of newly built condos and buyers battled over a persistent shortage of houses.
GTA housing affordability falling; 'we're not far behind New York' (Toronto Star)
The more than decade-long GTA housing boom now has us outpacing New York, requiring 6.5 times the average income to buy a house here, up from 4.8 times the average income in 2006, Petramala said in a telephone interview.
Buying a cheaper home outside Toronto may not pay off (The Star)
"People will often choose to drive as far as it takes to qualify for a mortgage. But once they get there, the actual costs undermine the lower cost of the house," said Pembina's Ontario director Cherise Burda, who co-authored, "Location matters: Factoring Location into Homebuying Decisions."
What a $1 million house looks in Toronto vs. other cities (Blog TO)
What does a $1 million house look like around the globe? From Toronto to Hong Kong, the real estate market is a pricey one with the top players seeing a surge in million dollar properties year after year. There's less new listings, higher prices and in some cities, the $1 million to $2 million range is now considered the average. Nowadays, you can buy a fixer-upper for a mil or a tiny two bedroom with no parking. Take a closer look at the housing market in Toronto and beyond.
Creating walkable, transit-friendly communities in Toronto (The Star)
For years, Torontonians have been told that our city — and the region as a whole — is a house divided. The downtown-suburban split is supposed to be a defining attribute of our city. We're told that residents from these two sides of the city have fundamentally different values and interests, which constantly put them at odds with each other.
It's a well known adage of housing that home sales are smaller in number in January, due largely to cold weather and a sluggish start to the year after the holidays. But Fard said his company has noticed that activity tends to pick up in the third week of the month. Moreover, across the year as a whole, for whatever reason, Tuesdays are the most popular day for real estate activity — everything from new listings, to activity on websites, to actual sales themselves.
Toronto must finally get public housing right: Editorial (The Star)
There's likely no municipal agency subject to more complaints, investigations, and scandal-inspired management change than the Toronto Community Housing Corp. Given all the audits and reports done to date, Mayor John Tory's launch of yet another panel assigned to recommend reform might seem redundant. But there's good reason to adopt this approach.
Canada
Why the Bank of Canada rate cut may not bring down mortgage costs (The Globe)
More than nine times out of 10, banks do drop their prime rate in lockstep with Bank of Canada overnight rate cuts. But banks have also been known to hold back a cut for themselves. The last time that happened was December 2008. The Bank of Canada slashed rates 0.75 per cent. Yet, the major banks lowered prime rate by only 0.50 per cent.
Analysts weigh in on Bank of Canada interest-rate cut (The Star)
Mortgages account for most of that debt. That's especially true in Canada's hottest real estate markets: Vancouver, Toronto and, until recently, Calgary, where home prices seem to have defied gravity for the last decade.
Vancouver's housing market ranked second most unaffordable in the world (Financial Post)
In Vancouver, median home prices were 10.6 times higher than median incomes in 2014. That's the worst affordability ranking Vancouver has ever received in the survey's 11-year history, and an increase from 2013 when prices were about the 10.3 times higher than incomes.
Debt doubts cast shadow for professional couple with five kids (The Globe)
Last fall, they bought a building lot for $1.1-million and are planning to build a house large enough for their family and a live-in nanny. But with a combined income of $360,000 ($450,000 when Ilsa returns to work) and an $800,000 mortgage, can they afford the builder's $1-million price tag? Who will lend them the money?
Shadow lenders fuel risk in Canada's hot housing market (Financial Post)
Gerstel, 57, is part of an expanding industry of mortgage brokers and nonbank lenders who operate outside the reach of federal bank regulators. They're thriving after Canada introduced a half-dozen mortgage rules since 2008 to cool its soaring home prices. While slowing the growth of traditional bank loans, the regulations have pushed new borrowers into an opaque market where nonbanks provide uninsured, short-term mortgages at interest rates as high as 20%.
How plunging oil prices could impact real estate across Canada (The Star)
House prices are expected to increase just "moderately" across Canada this year, led by above average gains in the Greater Toronto area but saddled by uncertainty in the West thanks to slumping oil prices.
USA
Resurgent Housing Seen Cushioning U.S. From World Woes (Bloomberg)
"Demand is the strongest since the recession" that ended in June 2009 and stemmed from the collapse in housing, said Chief Executive Officer Todd Mansfield. "The economy is getting better and the labor market is getting better."
Supreme Court Weighs Fair-Housing Lawsuits (Wall Street Journal)
The Supreme Court divided into ideological camps Wednesday as it considered whether fair-housing lawsuits can proceed against practices that allegedly promote racial segregation even without proof of intentional discrimination.
What $750,000 Buys You in New York City (New York Times)
The average price of an apartment in New York City has surpassed its last peak, 2008, before the recession hit and the housing market collapsed. And that new high, about $1.7 million in Manhattan, may cause potential buyers to draw in a sharp and painful breath.
International
Right-to-buy housing scheme faces abolition in Wales (BBC)
Right-to-buy, one of the Thatcher government's most popular policies, was blamed by critics for reducing the stock of social housing. More than 130,000 houses in Wales have been bought under right-to-buy, for council tenants, and right-to-acquire, for housing association tenants, since 1980.
Fighting a Housing Crisis, Egypt Builds Towers in the Desert (CityLab)
Though they look like ghost cities, one day these places will stir with life. "The houses are in the middle of construction, with the exception of some that are almost finished," emails Alvarez Diestro, who's 42. "It is interesting that they build them with no fences around and they're visible to all passing around. All of them will be occupied, especially those ones for the lower classes that happen to be the majority of the population and are experiencing an important growth."
How 3D printing and land reform could help to solve the housing crisis (The Guardian)
Let's create a new land use class in the planning system "C5 Custom build". In effect, that would create a parallel land market that differentiates between a house built as a speculative asset, and a house built as a place to live. Let's create space for both, and see which works.
Realosophy Realty Inc. Brokerage is an innovative residential real estate brokerage in Toronto. A leader in real estate analytics and pro-consumer advice, Realosophy helps clients buy or sell a home the right way.
Email Realosophy
Share This Article